At Viva Tech, L'Oreal debuts integrated retail tech and tech-forward products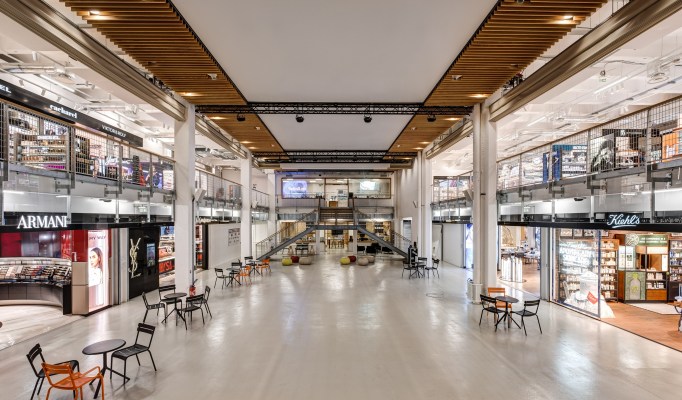 Over the last three days, beauty conglomerate L'Oréal exhibited at Viva Tech in Paris alongside giants like Meta and LVMH, spotlighting customer-specific innovations like the YSL Sur Mesure virtual lipstick try-on tool and the YSL Scent-sation experience. The company's presentation also featured customized consultations through SkinCeuticals and personalized skin care via Lancôme's new skin analysis tool, Skin Screen. 
At the same time, the company offered an inside look at its Retail Lab, which it launched as a testing space for in-store sustainability solutions and technology applications for in-store retail, e-commerce and product development. It's a part of the company's long-term plan to take innovation and testing in-house. 
You have read the maximum number of free articles.
Glossy
+

Membership

Subscribe now for access to unlimited Glossy content, premium research reports, exclusive newsletters, invitations to member-only events and more.

SUBSCRIBE

Already a member?

Already a member?

Login

Logout
This content is available exclusively to Glossy+ members.
Glossy
+

Membership

Subscribe now for access to unlimited Glossy content, premium research reports, exclusive newsletters, invitations to member-only events and more.
The main takeaways from the event showed that L'Oréal — while largely a traditional company, founded in 1909 — has kept innovation at its heart. "Even a 113-year-old leader can invent the future," said Nicholas Hieronimus, CEO of L'Oréal. "I'm convinced the future of beauty will be powered by technology."
Over the last 10 years, the company has been particularly focused on filling market gaps in innovation via its technology incubator."Tech [gives] us the ability for us to solve some of those age-old consumer needs in beauty," said Guive Balooch, global vp of L'Oréal's technology incubator. For example, the company now provides exact foundation matching with the Lancôme Shade Finder and the ability to try-on beauty trends in real time. 
Advertisement
Retail Lab innovations
The considerable size of the company has given it a freedom to iterate and test new retail customer experiences in-house with startup partners and the Retail Lab. What's more, its involvement in multiple fields has allowed it to take a wide, cross-sector approach to solutions. A tour of the Retail Lab showed that the company is prioritizing in-store display technology to help customers get a more immersive experience. These include a Metamirror, where users can see their full-length interactive avatar, as well as innovations like no-barcode product recognition technology and transparent screens for advertising displays. A dedicated materials lab also showed that L'Oréal is taking into consideration how it is using materials in its displays, packaging and products, with some integration of bio-based materials, like mycelium, for packaging. 
"It can take anywhere from one month to 10 years to see this tech integrated by brands," said a tech lab representative. "Typically, 5-10% of the tech ends up on the shop floor." The Retail Lab space was also designed to get partners and customers familiarized with the included products and displays, and to engage them via focus groups to make the offering and presentation personal. 
The company's forward-thinking tech is not just relegated to improvements in skin care and beauty. It's also focused on advancements in sustainability, like with the company's proprietary micronization technology in its Water Saver sinks. In addition, it extends to fragrance; the company can deliver customers a hyper-personalized fragrance option through its YSL Scent-sation technology. The overall idea is that L'Oréal is both building on existing technology, like previous water aeration taps, and creating new applications for the technology hardware and software coming from the startups it works with, like Scent-sation headset partner Emotiv. 
Advertisement
"We use technology to delight and bring [customers'] experiences to higher levels. Usually that means we have to integrate lots of tech," said Balooch. Unlike other brands that may focus on single-platform tech integration, products like the YSL Sur Mesure that can tailor and create new lipstick colors use multiple. "For that product, we use different types of technology together, like AR in Modiface, algorithms, personalized beauty and social," said Balooch. Balooch said all of the products are tested thoroughly for efficacy before use, allowing the R&D products to, so far, come to market relatively quickly. 
Working with startups
The other main takeaway from the event is that technology product solutions are broad and they attract a big audience of people all interested in an interactive experience. All of the products that have so far been presented at Viva Tech are also coming to market, something that cannot be said for all innovation coming out of CES.
Many brand products are coming from partnering with startups. For its part, L'Oréal develops solutions in a way similar to how technology companies bring on collaborators to learn from. One of the ways it does this is by bringing them into the Retail Lab, which is located near the L'Oréal Paris offices. "What we know how to do is to scale and cascade, because we're a company that has been built on this idea that we have to globalize what we do," said Balooch. "We have to be able to take from a local market and bring it to the world."
Advertisement
The metaverse and L'Oréal
As for L'Oréal's future presence in the metaverse, the road is not yet clear. Long-term planning is the objective. "We are trying to shape the future of beauty in a way that is offline, online and on-chain, said Asmita Dubey, L'Oréal's chief digital and marketing officer. "We believe that it's physical, digital and virtual. All these realities will exist and will come together in the audience."
The brand has launched three dedicated metaverse collaborations with its brands NYX Professional Makeup, YSL Beauty and Mugler, each integrating web3 NFT components like ownership and community into their beauty offering. "Everybody is talking about immersive experiences because of technology," said Dubey. "So we are trying to imagine how beauty is going to move to 3D beauty."
Get news and analysis about fashion, beauty and culture delivered to your inbox every morning.