From virtual makeup looks to contouring guides, brands are now turning to TikTok and Instagram more than Snapchat for AR filter campaigns.
According to the findings from Glossy's new research report published this week, Instagram is the most popular social platform for brands across categories to deploy AR filters, with a 64% adoption rate among those surveyed. While Snapchat was the most popular social media platform for AR filters in 2017, it now lags behind both Instagram and TikTok.
Despite Snapchat's longtime emphasis on its AR features, it is now the fifth most common option for brands' filter launches with 30% adoption. This doesn't mean Snapchat is losing brands: adoption is actually higher than in 2017, when only 21% had used a Snapchat filter. But as AR filter use becomes more widespread among brands, its ranking has been superseded by not only first-place Instagram, but also TikTok, which came in fourth place with 36% adoption.
Instagram has been widely adopted among beauty brands for custom AR filters that live on their own filter tab on a brand's profile or are accessed via QR codes. Most recently, Sephora used Instagram for the "photo booth" feature at its virtual Sephoria event earlier in September, allowing users to scan a QR code to pull up the filter on Instagram. Other examples of beauty brands using branded AR filters on their profiles include Dior, Estée Lauder, Lancôme, Valentino, Nars, MAC Cosmetics and Fenty Beauty, to name a few.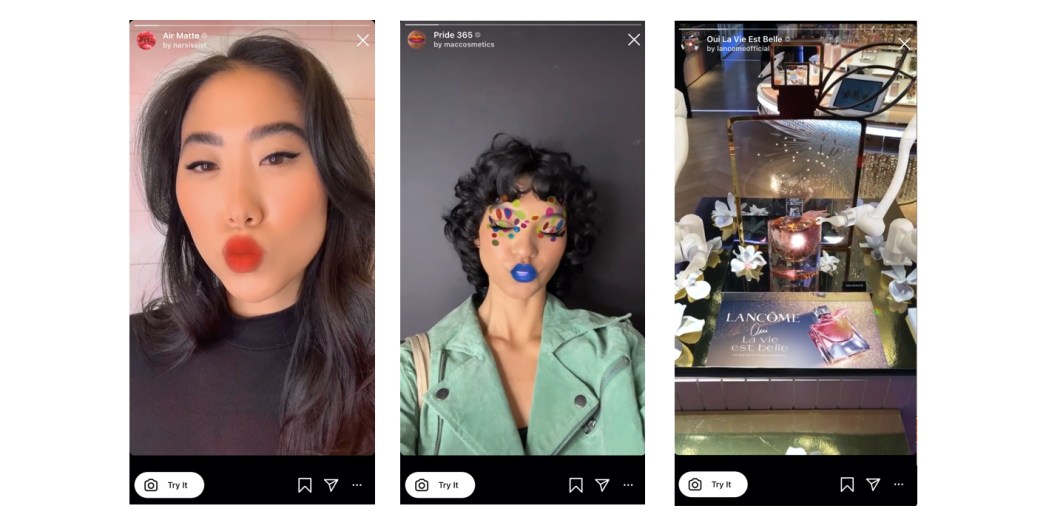 The data shows that Meta-owned platforms have become a top choice for AR filter adoption. Facebook came in second place after Instagram. This puts both Meta platforms ahead of brand-owned channels such as brands' websites for AR filter deployment. More popular than all social platforms including Snapchat in 2017, owned channels dropped to third place.
"In terms of Snapchat falling, it could be a number of reasons. It might just not be keeping up with its competitors in terms of features," said report co-author and Digiday senior researcher Li Lu.
TikTok, which expanded its Effect House in April to allow anyone to create their own AR filters for the app, has been attracting more fashion and beauty brands to its filter features to drive UGC. One recent example was Fenty Beauty's TikTok-exclusive contour campaign, which allowed users to create videos using a "contour guide" face chart filter created by filter creator Grace Choi. Participants using the filter in a video could include the campaign hashtag for the chance to win prizes, generating 1.4 million views for videos with the tag.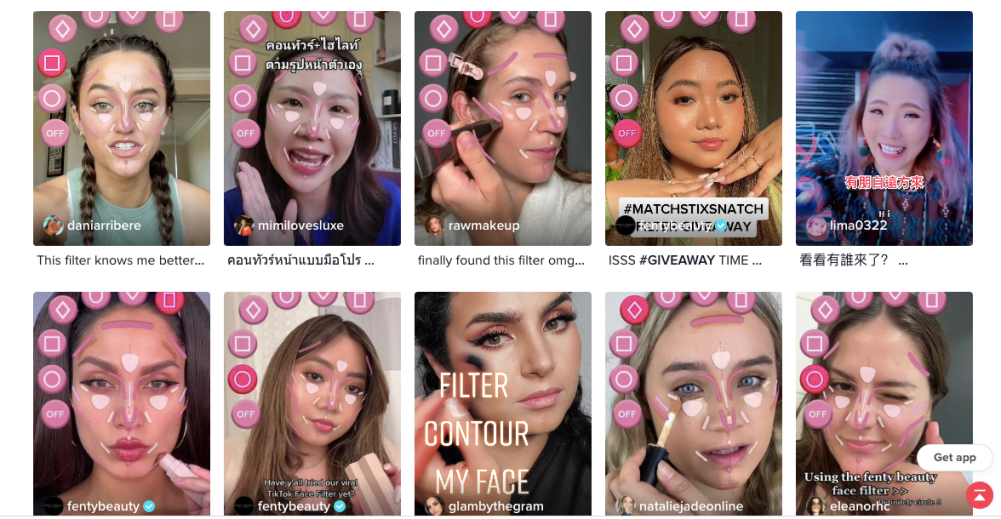 "Similar to the beauty community, TikTok communities are conversational, creative and interactive. The creativity on TikTok is unmatched," said Choi. In addition to Fenty Beauty, she has created filters for Nars and One/Size, with more brand filter collaborations coming up this quarter. The "majority" of brands' requests are for TikTok filters, but she has gotten a few for Instagram as well, she said.
Despite the popularity of competitors' AR features, Snapchat has a Gen Z audience that remains a draw for many major beauty brand partners. Ulta Beauty and MAC Cosmetics were the first beauty companies to use Snapchat's shoppable AR lens feature in January 2022. Ulta Beauty has launched Snapchat-specific AR campaigns multiple times in the past year. Snapchat said that Ulta Beauty has generated $6 million in purchases and 30 million product try-ons from its Snapchat filter campaigns. Most recently, the beauty retailer launched a shoppable back-to-school game accessed through Snapchat's filter menu.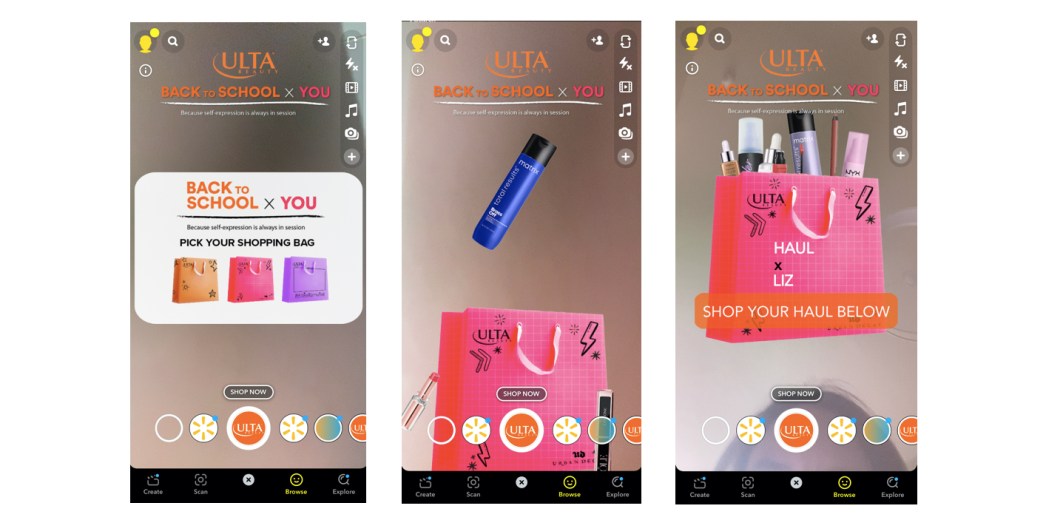 Some brands are also opting for multiple platforms at once; Dior launched simultaneous filters on Snapchat and Instagram for a campaign last year.
For Snapchat, one big challenge will be competing with the public-facing nature of both TikTok and Instagram, which allows for more UGC and engagement on the filters created for those platforms.
"With TikTok, its surge in popularity with short-form content is just very different than Snapchat's offering. It focuses on getting as much relevant content in front of a user versus Snapchat, which is more for person-to-person connection," said Lu.
For more information on how brands are leveraging AR, click here to read the full report.