Get the top trends, brands and industry news in fashion, beauty and wellness, straight to your inbox daily. Sign up for the Glossy Daily Newsletter here.
All products featured on Glossy Pop are independently selected by our editorial team. However, when you buy something through our retail links, we may earn an affiliate commission.
If Marty Bell, co-founder of the sunscreen brand Vacation, had to describe the world of the brand to someone entirely new to it, he'd tell them it's like the TV show "'The Office,' crossed with Jimmy Buffett's brand world," he said.
On the brand's Instagram, which is its marketing focus and has 47,000 followers, followers are fully immersed in the imaginary '80s resort in which the world of the brand lives. For example, one recent caption reads, "Vacation® Brand's Lead Scent Facilitator Jean Feinstein pictured here looking proud as blue banana punch after winning first place in Club Wyndman's annual 'chili and chill' night, Daytona's most popular chili-related event."
Bell, originally the founder of the Tumblr-turned-radio station Poolsuite, was introduced to co-founders Lach Hall and Dakota Green vis-a-vis a Slack channel for founders that he runs. Ever-on-brand, it's called Jacuzzi Club. Bell had launched Poolsuite as a Tumblr in 2014, and it reached a point of success that he didn't know what to do with. He couldn't devote himself full time to a radio station that paired happy '80s music with "hours of footage of ridiculous '80s beach movies on VHS," he said. Meanwhile, Hall and Green were launching a sunscreen brand aimed at making sunscreen "fun again."
The trio lucked out with "great timing," said Hall. "Marty [Bell] was looking to do something with Poolsuite. There was this incredible audience and brand that he'd built around that, which was very similar to what we had. We knew there was a good synergy that could happen between the two brands and that we'd have a ready community that we could be talking to about sunscreen." So they joined forces.
Timing-wise, this coincided with early Covid. The trio wound up living in the Dominican Republic for around seven months, which proved a fruitful location for creative brainstorms. "We had a really intense week of coming up with the launch strategy," Bell said. "And it was there where we came up with [the business cards marketing idea, pictured below]." When Vacation launched, it did so with the below "business cards," which site visitors can still generate today.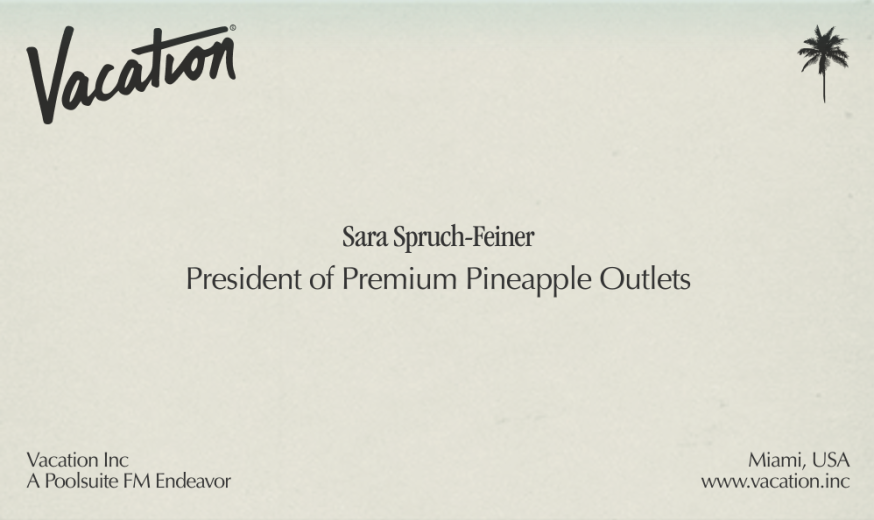 "People will share things if it's personalized in some way," Bell said. (Case in point). "We were looking to all these different traits of viral campaigns, and that's what we landed on. But that was just the three of us bashing our heads together for days on end, trying to come up with that idea."
Inspiration for Vacation came from vintage Club Med advertisements and a time when sunscreen, and sunscreen marketing, wasn't so tied to a fear of skin cancer. Vacation calls itself "leisure enhancing sunscreen."
"We look back to the '80s and early '90s, when sunscreen was all about tanning. It was way more fun back then, if you look at all the old ads and things [sunscreen brands] did for marketing. When tanning became taboo and [ads] shifted toward more protection and safety and responsibility, sunscreen became a lot more medicinal," Hall said. He and his business partners believe getting people to actually wear it, though, will be more successful if doing so is more fun than dutiful or scary.
Part of Vacation's world means that the brand extends beyond sunscreen, too. For example, its $60 Eau De Toilette has become an item it struggles to keep in stock. "It's such a great way to pull people into the brand," Bell said. "Some of our investors and advisors told us we shouldn't do that product because it's a distraction from making sunscreen. But it's been so good for just defining us as [having] such a good smelling sunscreen that people want to smell like it without having to even wear the sunscreen."
On Vacation.inc, shoppers will also find a "sold out" Hovercraft — "kid not included." A "Tiki Boat Charter" for the Miami-Dade region bears the sticker "Enquire today!" — it is also a pretend offering.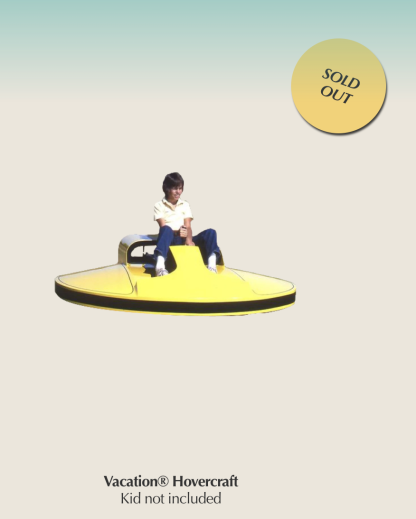 Ultimately, Bell said, he and his team are hyper-aware of avoiding becoming stale. They want to create the kind of brand and, subsequently, the kind of social media accounts that are actually fun and engaging to follow.
"If we're going to be putting our brand in front of people every day on Instagram, we have to entertain them. We can't just post bottles of sunscreen every day. It's unfair to just throw it in your followers' faces every day, saying, 'Here's another photo of my product on a beach. Here's another photo. Are you going to buy it today? Here's another photo. Do you want to buy it today?'"