Following her virtual New Year's Eve and Neon Carnival parties in Roblox, Paris Hilton is now bringing a Halloween party to the metaverse. 
From today through November 1, visitors can head to "Paris World" in Roblox to check out the "Cryptoween" metaverse activation created by Hilton's company 11:11 Media in partnership with Urban Decay. The first Roblox activation sponsored by a L'Oréal Group-owned brand, the event is a reflection of major beauty and fashion brands' growing investment in Roblox as a part of their metaverse marketing strategies. 
"Being 'Queen of the Metaverse' and 'Crypto Queen,' and also the 'Queen of Halloween,' I was so excited to do this because everyone obviously loves Halloween and people are going to be spending more time than ever in the metaverse," said Hilton.
Cryptoween will be held in a virtual three-room property, with each room dedicated to an Urban Decay product: the 24/7 Eyeliner, 24/7 Moondusts and Vice Lip Bond. Guests can choose from 10 different outfits inspired by Hilton's past Halloween looks, including her "Bunny Princess," "Tinkerbell" and "Phoenix" costumes, and add matching makeup looks created by Urban Decay. Users can model their looks in a virtual runway competition for the chance to be featured on the leaderboard. Starting today from 2:00-3:00 pm PDT, Hilton will make daily appearances in the world via her avatar at the virtual world's selfie booth.
"Our Roblox partnership with Paris Hilton is designed to connect with an entirely new audience of makeup lovers and to introduce them to our core franchises," said Eva Erdmann, president of Urban Decay. For the brand's first-ever metaverse activation, Hilton was an ideal partner because she is "a fun, rebellious and free spirit, like the Urban Decay fan," said Erdmann.
Cryptoween's avatars
Urban Decay is the latest of several major beauty brands jumping in on Roblox metaverse marketing. Others tapping into Roblox's 59.9 million users via virtual worlds have included Givenchy Beauty and Nars Cosmetics. Fashion brands such as Gucci and Tommy Hilfiger have also launched Roblox campaigns. 
Hilton and 11:11 Media have bigger plans in store for the Cryptoween concept. 11:11 Media filed a trademark for "Cryptoween" on August 17, along with "Queen of the Metaverse." The company plans to make Cryptoween an annual event across multiple metaverse platforms, said Bruce Gersh, its president and COO. 
The activation is part of 11:11 Media's series of virtual worlds inspired by "those signature events that Paris either attends or owns" in real life, said Gersh. So far, these digital events have taken place in Roblox, which has the benefit of "making sure that our consumers are in a safe environment," he said. 
In April, its Neon Carnival activation in the Roblox Paris World sponsored by Levi's received 360,000 visitors, while Hilton's New Year's Eve virtual party hosted "more people than they had in Times Square for the ball drop," said Hilton. 
The company is also in the process of developing Paris World in other platforms including Sandbox and Decentraland.
A DJ in the physical world for a decade, Hilton admitted that the metaverse is "never going to replace" IRL parties. But she emphasized her belief that virtual events can be just as fun if done right.
She said that while DJing her New Year's Roblox event from her honeymoon at the Waldorf Astoria Maldives at the beginning of this year, "I just remember saying to my husband, 'I never in my life would have thought that I would have fun in a virtual world like this.'"
"Now that I'm married and more grown up, I don't go out as much as I used to for real-life events. I sometimes would much rather be home with my husband and be in the metaverse," she said. 
As some brands struggle to figure out how to drive hype for virtual events, celebrity appearances via avatar may be the key. According to Gersh, "The fact that Paris actually is in the world" is a big driver of attendance. Her promotion of the events across social platforms also brings in her followers—including 20.6 million on Instagram, 16.9 million on Twitter and 17.1 million on TikTok. 
Hilton emphasized that "being genuine and authentic with coming into web3" is important for attracting a fan base to attend. This means verifying that when fans take a selfie with her avatar, they are getting the real thing. "I like people to know that it's actually me in there. A lot of the time, I'll go live or film the experience," she said. Other celebrities also make appearances at her events — Meghan Trainor is expected to show up to Cryptoween.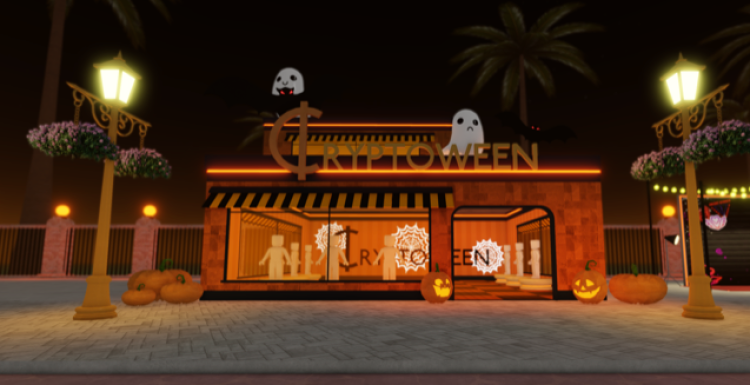 The Cryptoween virtual world
Hilton also makes surprise appearances in Paris World outside of its big scheduled events, announcing on social media she's popping in. She also browses around other metaverse worlds. "I love buying different outfits for my avatars and different makeup looks and accessories. I love shopping," she said.
Like in real life, fans love to do selfies with her in the virtual world. When the Roblox platform alerts her followers she's active, things can get crazy. "It does get overwhelming because they'll all be jumping on top of each other trying to get a selfie. [It] has this anxiety," she said, noting that "it feels not completely real, but very real."
For monetization, partnering with brands like Urban Decay "has been the primary revenue source" for 11:11 Media's metaverse initiatives, said Gersh. For future events, "I want to do as many as possible with brands that I align with," said Hilton. 
Virtual merch and fashion could play a bigger role in the future. Gersh stated that, "as the market matures, microtransactions are definitely going to start playing into not only the experiences, but also the monetization." 
Despite its name, this year's Cryptoween activation will not include any cryptocurrency components. It will also steer clear of the NFT world, which has counted Hilton among its strongest celebrity evangelists.
Hilton is still vocal about her support for NFTs–she said she has not sold any pieces in her collection of thousands of NFTs, which are displayed in her house on digital screens she had installed.
"There's a lot of projects and the market is very saturated in that way, but there's always going to be amazing, talented people," she said. "Just like in the real art world, there are certain people who are going to be like Van Gogh or Basquiat." She made it clear that she does not give financial advice on cryptocurrency, but noted she's holding onto her own crypto investments at the moment. 
The metaverse and web3 are "an important part of our long term strategy," said Gersh of 11:11 Media, which also handles e-commerce, audio and licensing, as well as multiple recent documentaries and reality show projects. Apart from web3, the company just launched Hilton's e-commerce site. When asked if a "Simple Life" redux could be among future TV projects, Hilton noted, "we're talking about some things," and "you never know."
Gersh said a "large team" works on the company's metaverse initiatives, and it just made a metaverse-specific hire. 
Beyond existing virtual worlds like Roblox, Sandbox and Decentraland, Paris World could branch out on its own in the future. A standalone platform is also "definitely an opportunity that we will explore at some point," said Gersh. "The beauty about a platform like Roblox is that it has a significant audience. [But] as time goes on, we'll make that decision [to work more independently] if it makes sense."