Mario Dedivanovic on creating a makeup mirror for 'the younger generation'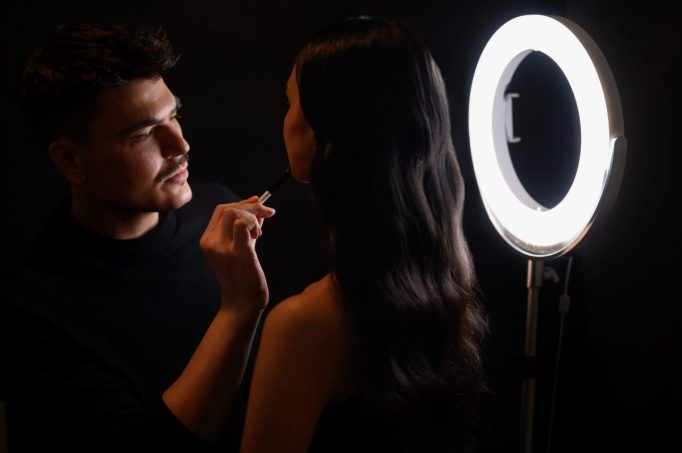 If you're going to launch a makeup light, there is perhaps no better partner than Mario Dedivanovic (aka, the man behind makeup brand Makeup by Mario and Kim Kardashian West's entire makeup aesthetic).
Kelly Mondora, founder of a new beauty-focused lighting company, Ilios, enlisted Dedivanovic as a co-founder before launching her company. Ilios hit the market in July 2021 with one hero product, the Beauty Ring ($249). It combines the functions of a magnifying, lighted mirror for makeup application and a ring light.
You have read the maximum number of free articles.
Glossy
+

Membership

Subscribe now for access to unlimited Glossy content, premium research reports, exclusive newsletters, invitations to member-only events and more.
This content is available exclusively to Glossy+ members.
Glossy
+

Membership

Subscribe now for access to unlimited Glossy content, premium research reports, exclusive newsletters, invitations to member-only events and more.
Ilios has received significant attention from celebrities, industry professionals and influencers (more on that later), and it's a brand to keep an eye on. 
Mondora has decades of experience in the lighting industry, having spent 18 years at F.J. Westcott, which makes professional photography and video lighting equipment. She decided to sell her shares of the company to venture out on her own. At the time, in 2016, Mondora's daughter was 12 and asked if she would get her a ring light before she left her job. "I didn't know how she knew what a ring light was," Mondora said. "She's like, 'Khloé Kardashian took one to the DMV. It's the best light for portraits." Inspiration struck, and Mondora began to study the existing ring light market. Her conclusion: "Nobody had taken the concept of daylight-inspired lighting and made a mirror that was bright enough to actually see detail when applying makeup and also converted to a ring light," she said. "So I started drawing up sketches and filed for a provisional patent in 2017." 
Advertisement
The resulting product is larger than most, at nine inches in diameter. And it comes equipped with 1x magnification on one side of the mirror and 5x on the other. It also has a built-in phone holder. "Our experience is lighting for professional photographers and filmmakers," Mondora said. "I was shocked when I realized how poor the light quality was in makeup mirrors and ring lights. We're the first to bring professional quality lighting to the consumer beauty world, for improved makeup application and skin care. You'll see every detail better, brighter, and in true color. It's like doing your makeup in daylight," she said, noting that the industry considers daylight to be "perfect lighting."
When Mondora emailed Dedivanovic, he replied immediately, expressing interest. "Your makeup is only as good as the lighting in which you do it in," he said. And he is the expert, having done red carpet and editorial makeup for decades.
"Lighting just makes everything come to life. A lot of the makeup that I do on my clients is literally made for light. The younger generation lives on social media. You're taking selfies, you're doing Zooms," he said. "So it was a dream to work on a light [with Mondora]. It felt very fitting and authentic."
Of the process of creating the light, he said, "We would do testing sessions. [Mondora] would ship the light to me, and I would give feedback and change things. The goal was really to create the best quality makeup and ring light mirror in the business, which it is by far."
Advertisement
Today, Dedivanovic uses the Ilios light for his own clients and his own Zoom calls, and also for product development. The room where his team tests samples of forthcoming launches is equipped with five. 
Given the importance of a good mirror, it's surprising that Sephora does not carry any. Meanwhile, a search for "mirrors" on Ulta Beauty yields 29 results, with offerings ranging from a $20 Conair mirror to products by mirror brand Riki Loves Riki that exceed $200.
Dedivanovic said he's gotten the product into the hands of Kim Kardashian West and countless others. "We sent it to some influencers and YouTubers and TikTokers, and to my clients, as well," Dedivanovic said. Since then, Debra Messing has requested one on the recommendation of celebrity makeup artist Gita Bass. In a DM to the company's account, Messing wrote, "Gita Bass just told me it's the best lighted mirror she's ever seen. And Gita is not one to exaggerate."
And celebrity stylist Jen Atkin said in a DM to the company, "Bella Hadid came over and loved my light." Mega-influencers like Stephanie Valentine (better known as Glamzilla) and Mikayla Nogueira have posted in praise of the light, too.
Advertisement
"Kim [Kardashian West] loves the light like I do. She's all about good lighting — it's part of her career," Dedivanovic said. "I've seen the sort of evolution of lights in her house and her glam room, and so I just knew she was going to love this product. And she was obsessed. She immediately wanted multiples, which was a great sign. She jumped on her [Instagram] Stories and was like, 'This is the greatest light I've ever used.' And I was so happy because it made me feel like, 'Yes, we did it. We worked on it for so long, and everything worked out. People love it. That's what I want. And I want it to help them, and I want them to feel that great feeling when you have a product that you can rely on."
Get news and analysis about fashion, beauty and culture delivered to your inbox every morning.