"Hi besties 🫶 how are we doing on here?!" read the first post by Selena Gomez's Rare Beauty on Instagram's newly released Threads app soon after it launched on July 5.
Opened to the public at 7 p.m. EDT, the Twitter competitor's easy registration with an existing Instagram account attracted 30 million signups by the next morning, according to Mark Zuckerberg. This chunk of the Instagram user base has included a wide range of celebrities, influencers and, of course, brands.
In the beauty space, many brands quickly activated their accounts Wednesday night. In addition to Rare Beauty, Clinique, Laneige, E.l.f. Beauty, Maybelline, Tarte, Sephora, Ulta Beauty, Fenty Beauty, Briogeo, ZitSticka, Milk Makeup, Kate Somerville, and Gen Z-oriented startups such as Experiment, Starface, 4AM Skincare and TooD Beauty were some of the earliest adopters.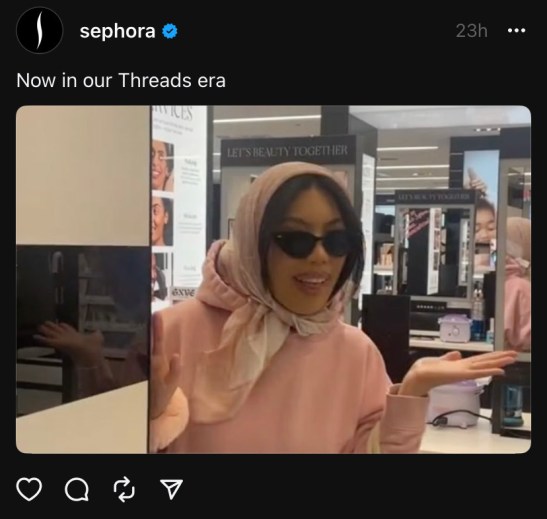 By the afternoon of July 6, so many major beauty brands were on the platform that new signups no longer consider themselves early.
"Fashionably late. Like any great icon. ✨" posted Estée Lauder at 5:44 EDT on July 6, less than 24 hours after the app launched.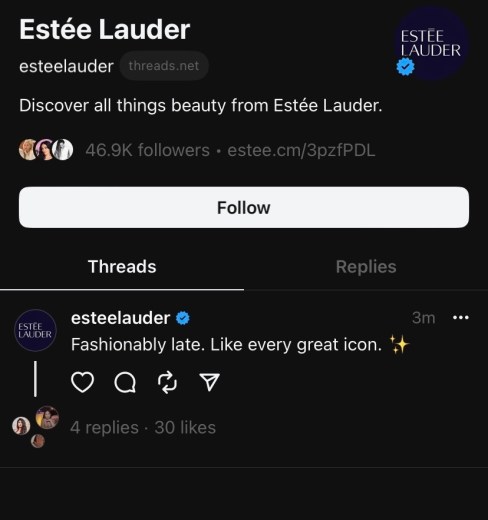 For now, the first rule of posting on Threads appears to be that you have to talk about Threads, with most posts on the app celebrating its launch with greetings, jokes, memes, and calls for more features.
"This feels like the early days of Twitter which was fun!" posted Rare Beauty CMO Katie Welch on Threads.
"This has the same vibe as social media when we were in like middle school lmao I love it," wrote influencer Snitchery.
"We need a separate following tab – ASAP!" wrote skinfluencer Sean Garrette, who is known for his active presence on Twitter. Instagram head Adam Mosseri promised it was on the way.
Celebrities on the app so far include Olivia Rodrigo, JLo, Kim, Khloe and Kourtney Kardashian, Kris Jenner, Simone Biles, Selena Gomez, and Pharrell.
Newcomers also commented on what kind of community would emerge on an app bringing the text-based format of Twitter to the influencer-heavy, aesthetically oriented user base of a photo- and video-focused platform.
Jade Beguelin, the co-founder of 4AM Skincare, created a chart to describe what types of influencers could stand out on the app with this dichotomy.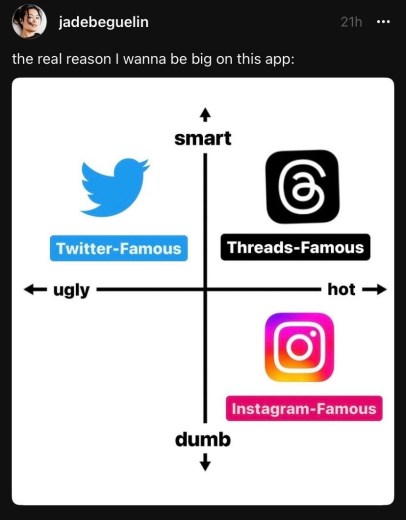 For her skin-care brand, she said that, although "the thought of yet another social app to keep up with is daunting," Threads "right now at least seems like a place we can be a little more casual and fun while staying true to our brand voice."
The new app has the potential to attract beauty brands that have traditionally been more invested in Instagram than Twitter for marketing.
"As a brand, we never invested in Twitter as our audience is incredibly visually stimulated, which Instagram and TikTok are poised to accommodate," said Tisha Thompson, founder of makeup brand LYS Beauty. But she said that the brand has set up an account on Threads and will use it to post about "topics of confidence, self-love, motivation, beauty trends and more with input from our customers."
Since Elon Musk acquired Twitter in October 2022, competitors such as Mastodon and Twitter founder Jack Dorsey's BlueSky have emerged as alternatives, but user numbers have been limited due to complicated sign-up processes or invite-only formats. On July 1, BlueSky announced the temporary suspension of new registrations after being overwhelmed with a flood of signups following Musk's announcement that Twitter would limit the number of tweets users could read per day.
"Although a smaller community, we did find it important to be on Twitter, so we will still live here. But as the downloads go up, Threads will be more of a focus," said Chris Salgardo, founder of Atwater Skin.
Advertisers decreased their spending on Twitter after the controversies surrounding the acquisition. Musk's political statements have also been a deterrent for brands.
"I am super disappointed in some of the Twitter developments lately," said Nadya Okamoto, co-founder and CEO of August. "We are proudly gender inclusive as a period brand, and comments from Elon Musk about considering 'cis' as a slur are not only incorrect but foster further transphobia on the platform making it an unsafe place for a lot of our community. I grew up looking to Twitter for current events and sources of truth, and verified users were one way that I could verify who I was following and make sure I was avoiding misinformation as a citizen, too."
For beauty brands reliant on visual-heavy social mediums, Twitter has become less of a priority.
UrbanSkin RX, for example, hasn't been active on Twitter since the third quarter of 2022, said its director of marketing, Keran Look Loy. "This was intentional in an effort to focus on our more strategic social channels, specifically TikTok and Instagram that demonstrate before-and-afters and how to use [products]."
Custom hair-care startup OurX plans to make Threads content "similar to Instagram," with expert hairstylist advice, while its Twitter "has been focused on thought leadership and brand values," with only occasional posts, said Meghan Maupin, the brand's CEO.
Unlike invite-only startups, brands have the opportunity to join Threads en masse from the start. But just like on Twitter, the longtime tradition of snark toward their corporate-friendly posts is alive and well.
"We need to bully the brands off this app early and often," wrote Washington Post columnist Taylor Lorenz.
But with a massive fashion and beauty brand presence already solidified on Instagram, they've quickly planted their flags on the new app. By 2 a.m. EDT on July 6, Rare Beauty had over 40,800 followers; as of 5 p.m. on the same date, it was up to 181,000. Glossier rose from 15,700 to 82,600 during that same time window. Sephora went from 44,800 to 343,000, and Ulta Beauty rose from 15,700 to 105,000.
Despite its fast user growth numbers, Threads remains an experiment for brands, for now.
"We just joined Threads today and are brainstorming if and how we activate on the platform," said Okamoto.