All products featured on Glossy Pop are independently selected by our editorial team. However, when you buy something through our retail links, we may earn an affiliate commission.
Stephanie Ledda — and her followers — love perfume. On YouTube, Ledda has 1.12 million followers, and on Instagram, she has 469,000. On Wednesday, she launched fragrance brand Ledda, a project she has worked on with her business partners for over 18 months.
The 32-year-old influencer got her start on YouTube in 2009 and, since then, has made a name for herself in the world of beauty content creation. Like many creators who've been creating content for over a decade, Ledda has tried her hand at entrepreneurship; she also has a wine brand, launched in May 2021, called Esemelle. Ledda is launching ner namesake brand direct-to consumer, with an Eau de Parfum ($98 for 50 milliliters), a hand cream ($24 for 50 milliliters) and a set of the two for $110.
Though Ledda is well aware that many influencers launch brands, the fragrance world is less well-trodden than, say, color cosmetics, she said. Case in point: In The Glossy Pop Guide to Influencer-Founded Brands, Chriselle Lim's Phlur, which she re-founded in February 2021, was the only perfume brand listed.
"A lot of influencers come out with strictly makeup," Ledda said. One may think makeup would be the top-selling category for a beauty influencer to talk about, and therefore sell, especially given its visual nature. But for Ledda, it's fragrance. Vanessa Del Muro, Ledda's manager and managing director at TalentX, a talent management company, and Ledda declined to share conversion stats. But they said Ledda's trackable and shoppable links show fragrance as her top-performing and earning content.
"My clicks on fragrance translate to sales. I'm proud of that, considering fragrance is something that's very personal and so hard to describe. The fact that it's converting people based on my descriptions is powerful," she said.
Prior to the Ledda launching her own fragrance, some of the scents most popular with her audience included Carolina Herrera's Good Girl, also known as the perfume in the stiletto bottle, Tom Ford's Soleil Blanc, which "brings you to a vacation type of place," and Kilian's Angels' Share, which smells like "a sexy cinnamon bun," Ledda said. Interestingly, "none of them smell similar," she said.
To launch her own fragrance brand, Ledda worked with Del Muro and brand creation agency Made With Runway, which partners with talent to bring consumer product brands to life. Jonny Eckersley, Made With Runway's chief brand officer, declined to share other company clients.
Depending on the brand, the talent can be very involved or very uninvolved, he said. "Given how knowledgeable Stephanie is about fragrance, she was heavily involved in directing and steering this project from the word go," Eckersley said. Made With Runway connected Ledda to leading fragrance company Firmenich, and Ledda was able to partner with famed perfumer Frank Voelkl to create her brand's debut scent, 22 Orris.
Perfume connoisseurs know Voelkl by name, but even casual fans know his work. He is behind scents like Le Labo's Santal 33 and Glossier You, among others. Of Voelkl, Ledda said, "Being able to meet him was amazing. And to say that he is the perfumer behind one of my scents is amazing, because he is an icon."
Of 22 Orris, Voelkl said, "This scent is a reflection of Stephanie; it has characteristics that are elevated but approachable at the same time. The ingredients used in the fragrance are a luxurious experience for consumers, as we use precious ingredients such as pink pepper and orris, which is one of the most expensive ingredients in our perfumer palette."
Orris, sometimes called Iris Butter, is not as ubiquitous as other fragrance notes. Ledda and her team went through a number of iterations in the process of getting the scent right. The "22" in the scent's name refers to the final percentage of orris in the formula. Of the finished product, Ledda said, "This one is so unique. I don't own anything like it, and I own over 100 fragrances." Ledda designed 22 Orris to be a date night scent, she said. She calls it both very "wearable" and "intimate." In addition to orris, its other notes include pear leaf, pink pepper and wild freesia.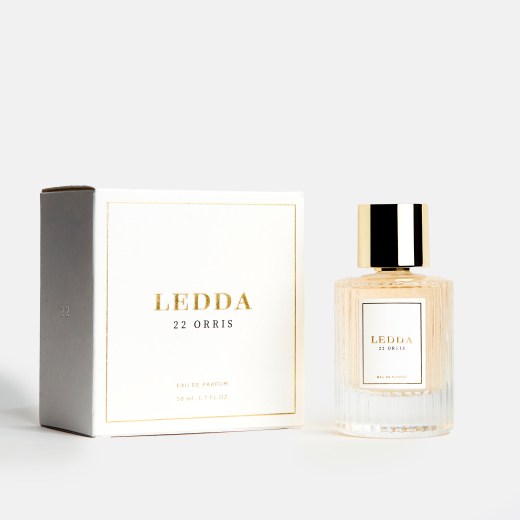 By summer 2023, Ledda will release more scents. Nowadays, starting a brand and keeping it afloat is a "marathon, not a sprint," said Del Muro — for anyone, but particularly in the crowded space of influencer-founded brands.
"A lot of times, we'll see influencers launch brands, and then [they're like], 'Oh, my goodness. This is so much work.' With this launch, it's something that Steph is passionate about. That's something we advise our clients on: Understand that if you want to launch a brand, the work involved is not like, 'Oh, I'm gonna do this real quick.' It's for the long haul, if you want it to be successful."