On TikTok, Reddit and Instagram, a few lucky Glossier fans across North America are saying they've hit the jackpot: scoring products by the brand for a discount at TJ Maxx.
"Glossier girlies: RUN to TJ Maxx!!!" proclaims one TikTok video posted on July 20. "I'm sorry what? Glossier is at TJ Maxx now?" said another TikTok post on the same day by lifestyle and beauty influencer Kayla Alana (7.2K followers), who followed up in a comment saying she bought a product at a location in Massachusetts.
In the 34,000-plus-member r/glossier Reddit group, posts are flooding in from across the U.S. and Canada showing off bargain Glossier finds at TJ Maxx, Marshalls and Winners, which are all discount chains under parent company TJX. And while TJX said it doesn't disclose the names of its vendors, individual stores in Toronto, Ontario; Knoxville, Tennessee; Indianapolis, Indiana; and Raleigh, North Carolina confirmed with Glossy that they indeed had the brand in stock recently.
The availability of Glossier products at TJX stores was confirmed by a spokesperson from the brand, who said they would be sold for a limited time.
A TikTok post by the username @phoebebridgersluvah, who says on her account she's at the University of North Carolina, shows Cloud Paint, Balm Dotcom, Generation G and Lip Gloss products on an unidentified store shelf that she says is TJ Maxx. The video has earned over 135,000 views and 16,000 likes. Viewers are aghast. "OH MY GOD," "WHATTT," and "HOLY COW," read some of the comments.
The post by Alana, meanwhile, shows a normally $18 Lidstar eyeshadow with a TJ Maxx label on it for $6.99. It received over 14,000 views and 2,100 likes, with equally excited comments. "SPRINTING," said one commenter.
It's not hard to see why the idea that Glossier could be found at a discount retailer like TJ Maxx is shocking. The brand has been well-known for its tight control of sales channels and brand equity, opting to sell exclusively DTC apart from one brief Nordstrom pop-up in 2019. Glossier CEO Kyle Leahy, who replaced founder Emily Weiss in May, has said publicly that the brand will be entering into wholesale partnerships. But most Glossier fans would not have guessed that the first store where they'd find the products would be a discount chain.
In the past week, r/glossier Reddit group users have been sharing photos showing off coveted finds from TJ Maxx locations across states including Tennessee, Georgia, Indiana and North Carolina, as well as Marshalls in Quebec and Ontario. Members are especially excited about the discounts, which sometimes exceed 50%. One Reddit post shared that a TJ Maxx location in "southeastern USA" was selling the normally $12 Balm Dotcom for $5.99; Lip Gloss for $6.99, down from $15; and Generation G for $7.99, normally $18. Many commenters who checked their home locations in search of a Glossier discount gold mine were unsuccessful — especially those in California and NYC.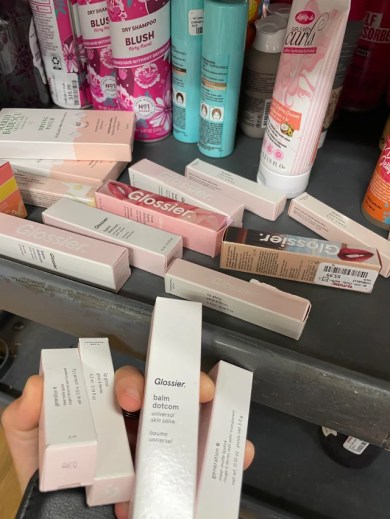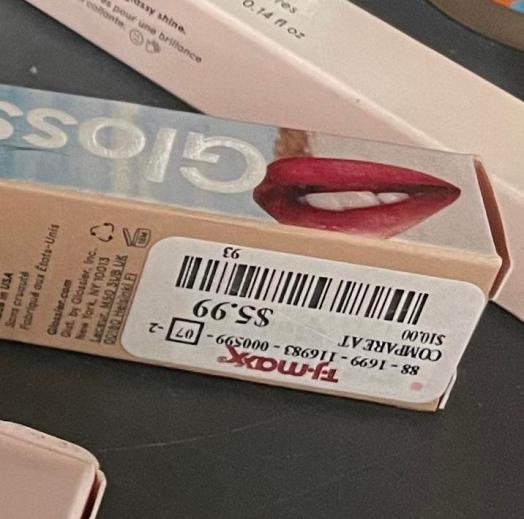 Without confirming or denying its vendor partnership with Glossier, the TJX spokesperson said, "Of course, we're always thrilled to hear about our customers posting their 'treasure hunt' shopping experiences on social media — and we love to see them sharing their best finds!"
Glossier products were also featured on TJMaxx Beauty Blogger, an Instagram account with over 25,000 followers dedicated to finding beauty deals at the retailer. With the Atlanta area listed as the location of the profile owner, the account posted Balm Dotcom for $5.99 and Cloud Paint for $6.99 at Marshalls.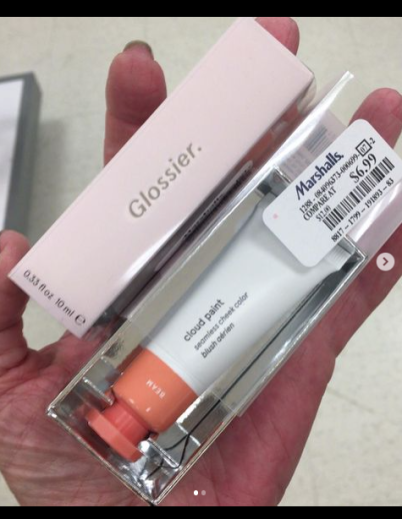 Glossy's calls for inventory checks at stores in areas listed in the posts — including North Carolina and Massachusetts in the U.S. and Quebec and Ontario in Canada — found that the brand was not in stock at the stores, as of Thursday and Friday.
But store associates at some locations stated that they remembered Glossier products had been in stock and sold out quickly. According to a call on July 21 with an associate at a Winners location in Toronto, the store had received Glossier products earlier that day and sold out of them. The location started getting Glossier products a "few days ago," and "they fly off the shelves really quickly."
On Friday, a store associate at a TJ Maxx in Knoxville, Tennessee recalled seeing Glossier products in stock the day before, but said the number was limited and they were sold out. Another associate in Indianapolis, Indiana said that Glossier's clear brow pomade had been in stock the day before and sold out. A clerk at a Boston location said none were in stock, but recalled seeing Glossier products while working at a previous TJ Maxx location in Oneonta, New York in June. Another in Raleigh, North Carolina said they had received Glossier products a month ago, and they had sold out quickly.
When buzzy brands have been found at TJ Maxx for the first time, it has been known to cause a stir in the past. In 2020, social media posts showed that palettes from controversial vlogger Jeffree Star's beauty brand were being sold at TK Maxx, the U.K. version of the chain. Users were quick to point out that Star had mocked the idea of being sold at TJ Maxx in the past.
Most Glossier fans have reacted with excitement about finding the products at a discount, but some are commenting on what it might mean for the brand to be found in a discount retailer. A few online sleuths said they have been checking manufacturing dates based on batch codes on the packaging, speculating that items were those unsold during the pandemic in 2020.
According to TJ Maxx's website, "some" of the ways it sources items are from "department store cancellations, a manufacturer making up too much product, or a closeout deal when a vendor wants to clear merchandise at the end of a season."
In June, Glossier announced that due to inflation, it would begin raising prices by $1-$4 on some items starting on July 6.
In January, it was reported by Modern Retail that the company laid off about one-third of its entire workforce. An email by Weiss at the time stated the company had made "some mistakes" and "prioritized certain strategic projects that distracted us from the laser-focus we needed to have on our core business: scaling our beauty brand."
[UPDATE 7/22/2022 4:17 PM EST: Confirmation from a brand spokesperson was added to the text.]