Gabrielle Union joins Dove's #DetoxYourFeed initiative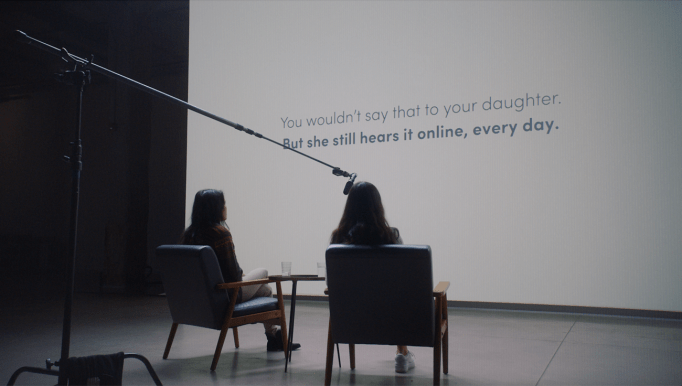 Actor Gabrielle Union has partnered with Dove and its Self-Esteem Project to encourage parents to talk to their kids about "detoxing" their social media feeds. Launched in 2004, the Dove Self-Esteem Project invests in body image and appearance research.
"You have to address these issues with the urgency they deserve," said Union, speaking about Dove's Self-Esteem Project's areas of focus.
You have read the maximum number of free articles.
Glossy
+

Membership

Subscribe now for access to unlimited Glossy content, premium research reports, exclusive newsletters, invitations to member-only events and more.

SUBSCRIBE

Already a member?

Already a member?

Login

Logout
This content is available exclusively to Glossy+ members.
Glossy
+

Membership

Subscribe now for access to unlimited Glossy content, premium research reports, exclusive newsletters, invitations to member-only events and more.
The beauty brand's latest findings are about toxic beauty advice and the influence social media can have on young girls. Fifty percent of girls ages 10-17 say idealized beauty content on social media causes low self-esteem, according to Dove's findings. In partnership with Edelman DXI, a global research, analytics and data consultancy, Dove conducted U.S. surveys in February 2022 and April 2022 with girls ages 10-17 (524 girls in February; 1,027 in April) and parents (1,501 parents in February; 1,027 in April). Other findings from the survey revealed that four in 10 girls (39%) say they follow at least one account on social media that makes them feel less beautiful, and seven in 10 girls (72%) have felt better after unfollowing idealized beauty content on social media.
As part of its latest campaign, Dove produced the short film "Toxic Influence." The film, which can be jarring to watch, features mother-daughter duos who were "invited to talk about social media." Then, surprising both mother and daughter, it uses deepfake technology to show toxic advice from social media coming out of the mothers' mouths. The deepfake makes it appear as though the mothers are giving recommendations that have actually come from real content online. There's a recommendation to file one's teeth, a statement that you're never too young for Botox, an endorsement for using at-home lip-filler kits and advice to "keep telling yourself you're not hungry, you're just thirsty."
Advertisement
The moms are astonished by their daughters' reactions. "Have you actually seen stuff like that?" one mother asks her daughter. "Yeah, a lot. This stuff is on every girl's feed," the girl replies.
In addition to the film, Dove developed academically-validated resources to help parents navigate social media with their kids.
Advertisement
"To #DetoxYourFeed is to help younger users have a healthier and more positive experience on social media, through unfollowing, muting and removing content from their feeds that erodes their self-esteem," said Leandro Barreto, global vice president of Dove. "Our research shows that 70% of girls felt better after simply unfollowing toxic beauty advice, so we want to create a space where they feel empowered to do this."
To spread the word about its findings, Dove enlisted Gabrielle Union and her stepdaughter, Zaya Wade, as partners.
"When you have a group as vulnerable as teen girls, the kinds of statistics [Dove reported in its study] cause you to straighten up and be much more present in our kids' lives. Certainly in their social media lives. It's very scary," Union said.
"Gabrielle Union and Zaya Wade share Dove's values and commitment to real, inclusive beauty," Barreto said of the partnership. "As a mom, Gabrielle authentically encourages parents to talk to their teens about toxic beauty advice on social media. [At 14,] Zaya is the perfect age to speak to her peers and empower fellow teens to detox their feeds by unfollowing and muting content that makes them feel bad about themselves."
Advertisement
Union, for her part, is unafraid to take a hands-on approach as a mom, especially as a mom of a daughter who is in the public eye. "We have to be really diligent about monitoring everything. [It's] not just who she follows, but also who follows her, what kind of comments are being left and who's in the DMs. I'm watching to see how she's doing under the harsh glare of social media," Union said.
She said she's grateful Dove is providing these resources. "Having this information, resources and research idiot-proofs [figuring out] how to go about talking to your kids. As parents, we'd like to think we know it all and have all the answers. Teenagers certainly feel like they know it all," said Union. "This Project creates a safe space for us to come together and have normal conversations where we're not talking at each other or being preachy.
"I'm giving [my daughters] the information I had to learn for myself as a grown person, almost 50, who is not immune to idealized beauty advice that makes me feel like crap and can cause me to spiral and feel like everyone thinks I'm hideous or not enough of this or too much of that."
Advertisement
Union added, "[As a parent], you also have to humble yourself. What we went through as teenagers is not what they're going through. That old sticks-and-stones stuff doesn't apply. It's dated. Words can hurt you."
"We've been fighting to end narrow definitions of beauty that threaten body confidence and self-esteem for the last two decades," Barreto said, noting that, in many ways, social media has only exacerbated these issues. "Today, many of these narrow beauty depictions are seen and perpetuated in our feeds, and our ongoing mission to make social media a more positive place aims to address this."
Get news and analysis about fashion, beauty and culture delivered to your inbox every morning.