After nailing the art of a collaboration with Kacey Musgraves via the Slowburn candle in 2020, Boy Smells is back with an exclusive partnership with the one and only Grace Jones.
Simply called Grace, the black peppercorn and Jamaican flora candle will be sold exclusively on Boy Smells' website, along with select specialty retailers like Kuhl-Linscomb in Houston and Extra Butter in New York, beginning September 8. The candle will be available in two sizes that will retail for $46 and $96, respectively.
Despite her iconic face and style, Jones has surprisingly not previously partnered with a beauty brand. Rather, she has largely steered clear of beauty or fashion campaigns in favor of more disparate collaborators, like Honda Scooters and Citroën in the '80s and, more recently, Barclaycard.
"As an artist, I'm called to leave my mark on the world through collaborative projects with other creatives. My collaboration with Boy Smells is a first-time venture where I've been able to carefully curate a candle that embodies my identity and life journey," said Jones, who explained the candle also evokes her love of Jamaica's natural beauty. 

"Grace is the original defier of gender expectations, without apology and with full radical self-acceptance and radical self-expression," said Matthew Herman, Boy Smells co-founder. "[She] is the greatest example of our brand values of gender fullness; she's been talking about feeling masculine and feeling feminine at the same time since at least the '70s."

Herman described the candle as "just what you would imagine Grace Jones would smell like."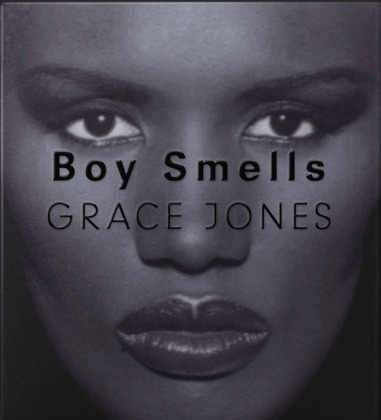 While Grace will stay a limited-edition product for now, Herman did not rule out the possibility of a longer tenure for the product. For its part, Slowburn started as an online-only product before becoming a part of the permanent Boy Smells collection. Besides the Musgraves collaboration, the brand has only worked with Ganni, also in 2020, on special edition products, making the Grace launch all the more compelling.
Unlike Boy Smells' collaboration with Musgraves, after she casually connected with Herman via Instagram DM, Boy Smells handled the legwork of introductions with Jones. Still, Jones said she was involved in every piece of the collaboration process.
"I've always lived unapologetically, and there was an instant synergy with Boy Smells' values and mission to color outside the lines and embrace marginalized communities that are often overlooked," she said.
To kick off the collaboration, as well as New York Fashion Week, Boy Smells will be hosting a private party on September 7 in New York with Jones and "RuPaul's Drag Race" star Symone. Symone be honoring Jones's influence on Black and queer people via a performance.
The launch of Grace comes at a buzzy time for Boy Smells. Boy Smells, which Herman said started as a side hustle, recently launched in 123 Sephora locations, where it will dive deeper into the fine fragrance category. The brand has no financial backing and declined to share sales figures.
Carye Campbell, vp of fragrance merchandising at Sephora said, "We look forward to seeing how these inclusive, multidimensional products will help our clients embrace individuality and feel empowered to be their most authentic selves."
Across retailers, indie brands have revitalized beauty with both home and fine fragrance offerings. Boy Smells, along with fellow independent brands like Dedcool, represent a rethink of what the once-gendered and designer-dominated fragrance segment means today.