For beauty brands looking for events to reach makeup enthusiasts, it's hard to find a more glam-obsessed crowd than at DragCon.
Brands including "Drag Race" star Kim Chi's KimChi Chic Beauty, Ariana Grande's R.E.M. Beauty, and "Euphoria" makeup artist Donni Davy's Half Magic Beauty were among more than a dozen beauty labels that participated in RuPaul's DragCon LA this year. Taking place on May 12 and 13 at the Los Angeles Convention Center, the annual event showcasing looks and performances by "RuPaul's Drag Race" stars celebrated drag queen culture as it supported the legal battle against attempts to restrict it.
"There are a lot more beauty brands here at DragCon than in previous years," said Fenton Bailey, the co-founder of "RuPaul's Drag Race" production company World of Wonder, which also hosts DragCon. "It's more startup and emerging beauty brands."
Thanks largely to the cultural influence of "Drag Race," drag queens have emerged as mainstream beauty influencers and brand founders over the years. "Drag Race" stars were central to several brands' promotions at this year's event.
KimChi Chic Beauty, for example, allowed fans to pose for photos with the brand's founder and season eight contestant Kim Chi in a Barbiecore-pink VW convertible. The booth sold the brand's entire product line at a discount and offered fans early access to its upcoming doughnut-themed collection and special merch.
"If there's an event like this, it's important to show up and use every opportunity you can because the venue and people here appreciate us. We've got to show up for the people that love us," said Kim Chi ahead of her Friday appearance at the event.
The meet-and-greet booth for Sasha Colby, the winner of the most recent "Drag Race" season, was sponsored by R.E.M. Beauty. Fans could head to the booth either day to take photos with Colby and spin a prize wheel to win products, such as a tote bag, a "lipstick reading" by a psychic, or a Polaroid with Colby. 
Henkel-owned haircare brand Got2B, meanwhile, was a headlining sponsor for the event and hosted a booth with meet-and-greet moments with multiple "Drag Race" contestants throughout the weekend, while Sugarpill Cosmetics sold signed copies of its collab palette with veteran "Drag Race" star Trixie Mattel.
Brands with a glam aesthetic were especially aligned with the looks at DragCon. "We don't have a lot of Goop-y type brands … it's about presenting and creating an image and a look," said Bailey.
"We're all speaking the same language," said Davy, who was on hand with fellow "Euphoria" and Half Magic makeup artists to offer eye bedazzling to attendees buying products. "This is a special treat," she said, noting that most of the brand's event activations are about introducing customers to sparkly eye gem looks for the first time. But the drag queens in attendance were already "loving this and doing this on the regular," she said. 
The Crème Shop, a former "Drag Race" sponsor which has been exhibiting at DragCon for seven years, was early to recognize the marketing potential for the show and event.
"We have a lot of drag fans, so there's a big consumer base that we have who are very much into drag," said the brand's CEO Olive Kim. The brand sold its product collection and merch, offered a spinning wheel for prizes, and featured a photo booth with a shirtless male model at its booth this year. 
Drag queens have long served as aesthetic inspiration and effective content creators for brands. Before DragCon, R.E.M. Beauty had worked with former "Drag Race" contestant Gottmik, who earned 2.6 million views for one eyeliner tutorial for the brand.
"Drag is one of Ariana's favorite things in the entire world. She is just such a big fan and always has been, so naturally this felt like an authentic and extremely fulfilling opportunity for us," said Michelle Shigemasa, the CEO of R.E.M. Beauty.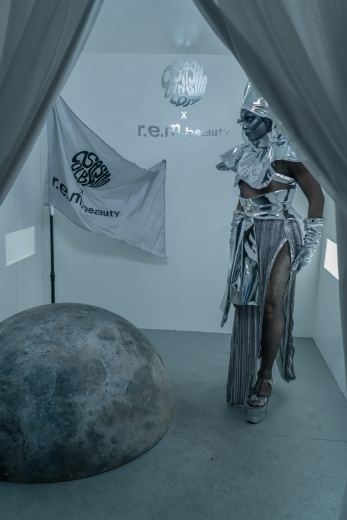 With singing and dancing abilities, the multi-talented queens view themselves as more than just makeup artists. "I just think of myself as an icon," said Kim Chi. In addition to her beauty brand, she has multiple projects in the works, such as her food podcast and a new book deal for a novel she's writing about a queer Asian youth fighting to save a local library, which she said is a reaction to book bans in states like Florida and Republicans' efforts to defund libraries.
Brands' presence at DragCon marked a sign of solidarity with drag culture at a time when drag queens are facing both legal restrictions and physical threats. This issue was addressed by the ACLU, which raised $40,000 throughout the weekend for the Drag Defense Fund. World of Wonder and MTV established the fund to fight Republican attempts to ban drag shows and dressing in drag.
Republican lawmakers have introduced a wave of bills in more than a dozen U.S. state houses attempting to ban "male or female impersonators" in drag shows from public property. Last month, Tennessee's governor signed one of these bills into law, but it was temporarily blocked by a federal judge. Experts say the wording of some bills could be interpreted as a ban on not just public drag shows, but also on anyone going out in public perceived to be dressed as the opposite of their birth-assigned gender, which could also be used to target trans individuals. In Florida, the DeSantis administration is trying to take away the liquor license of a Hyatt hotel for not having age restrictions on a ticketed "Drag Queen Christmas" show held by a "Drag Race" star, while a bill recently passed in Florida that says venues can have liquor licenses taken away for not age restricting "lewd" performances. 
"Drag has become a target because it's finally become a legitimate entertainment alternative. It's mainstream," said World of Wonder co-founder Randy Barbato. To defend drag culture, he advocated for "two things: to fight strategically in the court and to remain visible. That's why we're here today."
Also noticeable at DragCon this year was a visibly ramped-up security presence, which included armed private guards stationed throughout the venue and a bomb-sniffing dog near the entrance, which served as a reminder of the increasing physical threats that have been made against drag queens in recent years. After the November 2022 Colorado shooting at a drag show that killed five people and injured 17, "Drag Race" stars have taken more security measures at public appearances. 
Bailey and Barbato emphasized the importance of not allowing hateful voices or fear to impact the community's energy. According to Barbato, the attacks on drag culture and the LGBTQ+ community overall are by "a handful of people looking to make noise to distract people from the reality of what's happening, which is that our country is progressing and is more open and that is terrifying to a small minority of people."
Right-wing backlash against brands for supporting the LGBTQ+ community, which most recently affected Bud Light, also had an impact on DragCon's U.K. event after Crocs pulled out as a sponsor. 
"Any brand that has embraced otherness and perceived marginal communities has only done well. The idea that it's bad for a brand is a complete myth. Some brands are scared of the potential fallout of being associated. But that is simply their loss," said Bailey.
Beauty brands have been especially vocal in recent years about supporting LGBTQ+ initiatives and organizations. 
"Beauty is a big part of how you show the world who you are. For beauty brands, it's especially important to be supportive of a community that supports beauty," said Annie Moyer, the retail director for PaintLab, which had a booth featuring its colorful press-on nails, eye gems, and false lashes with decals at the event. "I would say the beauty consumer is probably a lot more progressive and maybe advanced in terms of acceptance," said Courtney Crofton, the brand's marketing manager.
"It's hugely upsetting people would be afraid of self-expression because it's really just about joy," said Davy. "It makes me want to do it more and make more products and just support everyone who's wearing these makeup looks and just make them happy."
"I feel like we're returning to the olden times, the witch hunt times–except we're the witches," said Kim Chi. When asked what message she had for LGBTQ+ youth, she said, "At times like this, it's really important for us to stick together and fight together." She also added, "And if you live in Florida, get the hell out of there."