Clean color brand Kosas leans further into personal care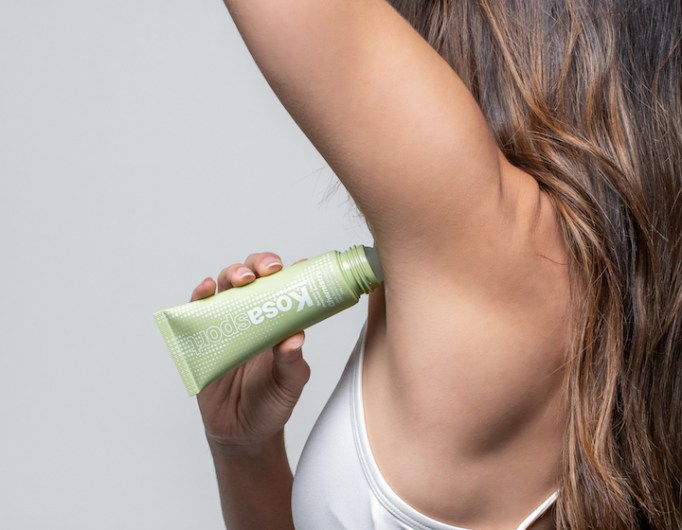 Off of its Series B raise in January, clean color cosmetics brand Kosas continues to bet on the personal care category.
Following its hyaluronic lip balm launch last year, Kosas is debuting its first deodorant, containing alpha hydroxy acids, called Chemistry. The product, which is part of a Kosasport capsule along with its lip balm, will be a Credo and Kosas.com exclusive for two weeks, beginning June 30, and will then land on Sephora.com and in Sephora stores on July 14 and July 24, respectively. Five-year-old Kosas experienced a 409% year-over-year increase in sales in 2019, largely due to its Sephora partnership and "multi-tasker" product hits, said Kosas founder Sheena Yaitanes. The company is expecting to triple its business in 2021; industry sources expect Kosas to earn $50 million to $60 million in retail sales this year.
You have read the maximum number of free articles.
Glossy
+

Membership

Subscribe now for access to unlimited Glossy content, premium research reports, exclusive newsletters, invitations to member-only events and more.

SUBSCRIBE

Already a member?

Already a member?

Login

Logout
This content is available exclusively to Glossy+ members.
Glossy
+

Membership

Subscribe now for access to unlimited Glossy content, premium research reports, exclusive newsletters, invitations to member-only events and more.
"Our thesis has been the same since the beginning, which is to problem solve. As the story unfolds, people are starting to see that we were always going to be more than lipsticks. Lipsticks were the minimum viable product to have as a beauty brand," said Yaitanes, who said she started with lip products in 2015 because they were so difficult to create as a clean brand.
While personal care brands and products have certainly adopted certain markers of beauty brands, such as branding, non-toxic ingredients and even beauty retailers as sales channels, it's less common for beauty brands to venture into drug store-esque products beyond skin care. And starting off as a makeup brand or a skin-care brand exclusively, and then trying to do both, can be very difficult for most companies.
Advertisement
Yaitanes said that following her own experience using clean deodorants — which were more about sensory elements, like "coconut oil" or "fun botanicals," and made body odor worse — she turned to Reddit for hacks. This is where she found alpha hydroxy acids being used to combat B.O.
Though clean color brands are booming comparatively to overall makeup sales — prestige makeup was down 22% year-over-year in the first quarter of 2020, according to NPD — store re-openings remain fragmented, which is impacting all beauty brands. Yaitanes said at the start of Covid-19, Sephora sales decreased, so the Kosas team quickly moved all workers providing Sephora store associate support to instead respond to in-bound traction on Kosas.com. National personal care sales, meanwhile, have soared out of utility and the category's connection to self-care. As clean becomes more mainstream, beauty brands that can showcase duality in personal care can profess they are one-stop shops for the customer.
"The clean beauty customer is woke," said Ty Givens, founder and CEO of customer experience agency The Workforce Pro. "Clean beauty was already on the rise, but Covid[-19], political unrest and Black Lives Matter have all done one thing to propel it forward even more: They've compelled consumers to understand how a product is created and who it ultimately benefits. This has meant much longer call times and deeper conversations, but it's extremely hard to train a customer service rep on the ins-and-outs of something like phthalates when they don't have an innate passion for it."
Deodorant is certainly not as sexy as lipstick or Kosas' Tinted Face Oil, a take on foundation, that became its No. 1 seller among all retail partners last year. But Yaitanes believes deodorant has more to do with face oil than one initially thinks.
Advertisement
Beginning July 6, Kosas has lined up influencers like Nike Master trainer Kirsty Godso and DJ Millie, otherwise known as the beauty brand's"Chemistry Team," to story-tell about its products on social media. Each member of the Chemistry Team will create an Instagram episode that showcases their active lifestyle and their relationship to body odor. Additional content from the influencers will include fitness classes, dance routines and exclusive playlists that will live on Kosas' social channels.
"The Kosas brand is about the shifted space in beauty. Aesthetically, it's about a natural, dewy, glowing look, but the reality is that you need makeup and personal care to give you that natural, even look, so you can [pretend] like you're not wearing anything," Yaitanes said. "Our hyaluronic lip balm was our first bridge to explain that."
Get news and analysis about fashion, beauty and culture delivered to your inbox every morning.