All products featured on Glossy Pop are independently selected by our editorial team. However, when you buy something through our retail links, we may earn an affiliate commission.
The drive to express himself drove Christian Cowan to a career in fashion, starting at the London College of Fashion and eventually going on to dress pop culture icons icons including Lady Gaga and Cardi B. "Not everyone can afford a $2,000 dress, and that's something I'm working on. I didn't grow up believing, 'I only want to design for rich people'," said Cowan.
His most recent project, released on June 12, is a Pride collaboration with Smashbox aimed at putting all "Statement-Making Essentials" into one makeup kit. The limited-edition kit is priced at $50 and consists of Smashbox's original primer, two cream eyeshadows and a liquid lipstick.
Cowan's main inspiration for the kit was makeup that would last through daylong Pride celebrations. "[This collab] was just about finding things that would be useful for what Pride is, and Pride is about having a good time," said Cowan.
As part of the collaboration, Smashbox is giving a grant to Cowan's charity of choice, the Ali Forney Center. The AFC is the nation's largest nonprofit, providing shelter and wraparound services to save and protect the lives of LGBTQ+ youth. "It's such an incredible organization, [with] the amount of good they do by helping house [people] and giving initiatives to young, queer, homeless youth. We're going to work with them in a greater way as time goes on," said Cowan.
Cowan said his long-time interest in makeup led to his collaboration with Smashbox. "My love for fashion design is [about] self-expression. And makeup is very much part of that," he said, adding that he was also inspired by Smashbox's reputation. "Smashbox is all about standing out." Cowan highlighted how supportive Smashbox was of his vision as a fashion designer and his campaigns.
Glenn Evans, Global Brand President of Smashbox and GLAMGLOW, described the collaboration with Cowan as personal and intentional. "It remains paramount for us to give Christian autonomy creatively and strategically throughout all shared initiatives, especially during Pride. He brings a fresh perspective to Smashbox," he said. 
Cowan said he finds fulfillment in being able to be more accessible to consumers. As for Smashbox, "their distribution is incredible and they're at that price point that makes sense for people," said Cowan. In terms of his fashion brand, Cowan said he's been working to make pieces at a more entry-level price point. His pieces are available on his website and department stores like Saks Fifth Avenue.
In the age of corporate pride and rainbow-washing, Cowan emphasized that his brand celebrates Pride and the LGBTQ+ community year-round. " If you look at the fashion brands, especially in New York City, we're probably one of the strongest queer-identity fashion brands at the moment. I can only relate to my personal experience, but I was a very unhappy, queer kid in the middle of nowhere at a religious sporty school. So, I truly understand the importance of finding your people," said Cowan.
Evans also highlighted that Pride is not a siloed event for Smashbox and Estée Lauder Companies. In early 2021, Estée Lauder Companies launched its Pride 365 Program, an initiative designed to advocate for LBGTQ+ equality beyond Pride month. ELC has been recognized every year since 2009 as one of the "Best Places to Work for LGBTQ Equality," with a 100 score on the Human Rights Campaign's 2021 Corporate Equality Index.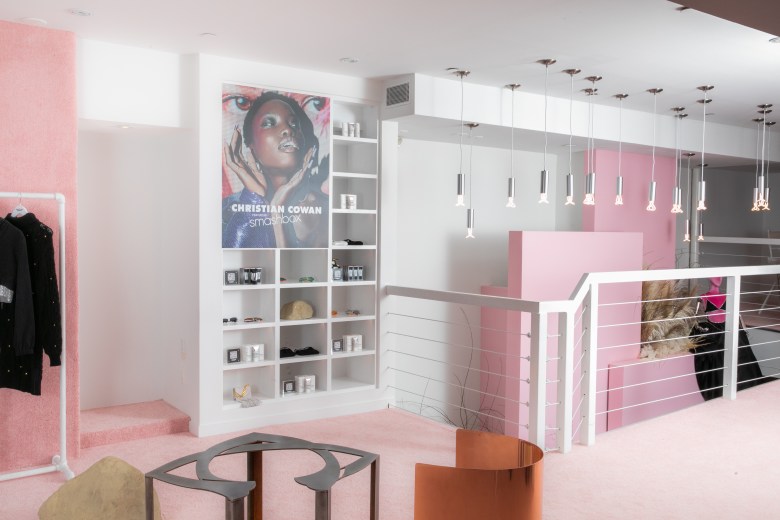 Furthering the Pride festivities, Cowan and Smashbox will be providing complimentary makeup looks at its Soho location during the New York City Pride parade on June 26. Cowan and the team at Smashbox worked together to create a diverse menu of gender-neutral makeup looks for the event.