At Lush's South by Southwest activation, the body-care company is showcasing not just bath bombs, but also truth bombs about big tech. 
The brand's Lush House pop-up at the annual Austin event opened on March 10 with a focus on "digital divestment," highlighting the brand's 2021 choice to exit TikTok and Meta-owned social platforms due to ethical concerns. As part of the activation, the brand commissioned a research report with U.K.-based survey company Opinium Research to learn about people's sentiments around ethics, social media and brands. The pop-up features a series of related talks with Lush execs and other activists in the space, including Facebook whistleblower Frances Haugen. And of course, it is also showcasing its signature bath products. 
With heavy tech industry attendance at SXSW, the pop-up is "a conversation starter, let's put it that way," said Annabelle Baker, Lush global brand director. She described the pop-up and its programming as "a little bit of a prod" to big tech. The series of talks held March 10-13 will conclude on Monday with a talk between Baker and Haugen about how social media can be "sustainable, open-sourced, community-controlled, iterative, accessible and life-affirming," Baker said.
According to the report, which surveyed 8,000 U.S. adults between February 13-21, consumers are all for a decision like Lush's. It found that 73% of respondents think brands should exit "unethical" social platforms, and 75% believe the same for regular users. When asked about their thoughts on brands that decide to eschew a social presence, "responsible" was the top adjective chosen by respondents, at 24%. Meanwhile, 23% of them described the brands as "disconnected."
Lush's decision to leave major social platforms was branded its "Anti-Social Policy." It is one of only a small handful of brands that have opted to leave Instagram, joining Bottega Veneta, which also left in 2021. 
The brand never used ads on these platforms, which made it easier to leave, according to Baker. "We've never paid to play," she said. "We're not in the position of a lot of these other companies which are still having to use it for advertising." 
The brand's reasons for leaving the platforms included their allowance of harmful content to proliferate and lack of transparency around how the algorithms work. While most brands have not deleted their accounts, there have been calls for better content moderation on Meta-owned platforms. In 2020, over 100 brands joined the Stop Hate for Profit campaign, temporarily pausing their advertising with the company to pressure it to better moderate hate speech.
Lush has not abandoned all social platforms: It is still active on Pinterest and Twitter, the latter of which has been under scrutiny for taking a more lax policy toward hate speech since the Elon Musk acquisition. 
"We're keeping an eye on it," said Baker, of Twitter. "What we're [most concerned with] is understanding the algorithms; how are they being developed?" 
Judy Lee, head of global brand experiences at Pinterest, will join Baker at Lush House on March 13 for a talk about brand communities on social media.
The platforms where Lush's survey respondents said they could find the most "trustworthy" information were Amazon, Google, Microsoft and YouTube. More than half of respondents felt they could receive trustworthy information on Google and Amazon.
Snapchat, Twitter and TikTok tied for last place, with only 23% of respondents saying they provide trustworthy information. TikTok has recently been in the news for being under a national security investigation in the U.S., while Twitter has faced a string of shakeups since the Elon Musk acquisition. 
According to the survey results, Twitter also tied with Pinterest and WhatsApp as the platform with the highest number of respondents who have abandoned it in the past 12 months; for each, 12% of respondents said they've stopped using it. An additional 26% of users said they are now using Twitter less than they did 12 months ago. That percentage is on par with that of Reddit, at 25% of respondents. Platforms with increased usage were TikTok (51% or respondents), YouTube (44%), BeReal and Instagram (42% each).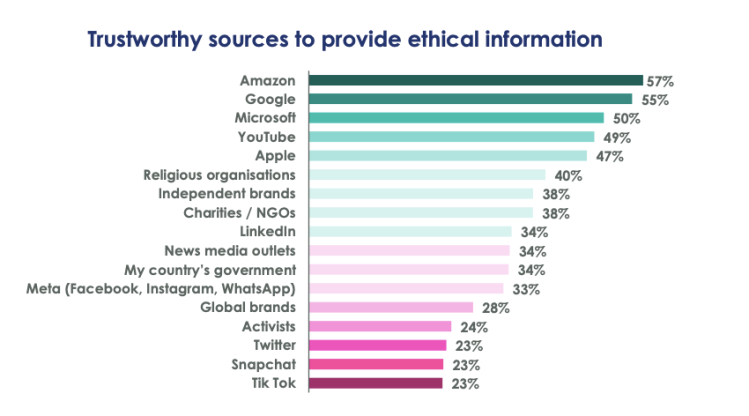 When deciding whether to leave a platform, "one of the most important things is [their level of] moderation," said Baker. Transparency is the brand's other demand of platforms. "So much is happening behind closed doors; users don't understand how the algorithms actually work. And until we get that transparency, it's very hard to get regulation." 
But Lush is still willing to gift its products to influencers on Instagram and TikTok. "We don't want to be dictating to creators who have made their living out of those platforms what they should or shouldn't be doing," said Karen Huxley, global PR lead for Lush.
For the SXSW activation, the brand is embracing other forms of tech. At its booth, it's showcasing its futuristic new floating bath robot, which includes a bluetooth speaker and connection to a mobile app that can also monitor biometric information like heart rate. The booth also has VR experiences and a motion-capture technology animation that translates live actors into CGI characters — think the technology used for Gollum in "Lord of the Rings," said Baker. The characters are based on some of Lush's best-selling bath products, which are also on display at the pop-up. 
Also embracing the music element at SXSW and the growing connections between rave culture and beauty, Lush is using the event to unveil its collaborative collection with nightlife party organizer Glitterbox. The collection includes an apple-scented, glitter-filled soap and a disco ball bath bomb. The brand is also hosting a dance party with Glitterbox, on March 13. 
Baker said that if Meta and TikTok were to make the changes the brand requires, it would consider returning to the platforms. "If a platform was safe, we'd be on it, for sure," said Baker.