Modiface brings AR to nail care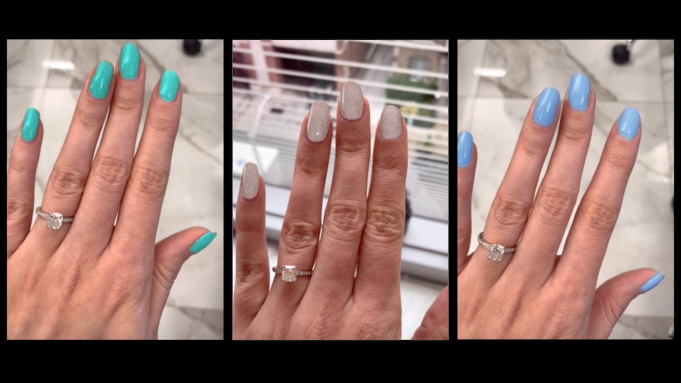 Eleven-year-old technology company ModiFace is looking to shake up the nail category with augmented reality. On Wednesday, the L'Oréal-owned firm launched its newest app called Virtual Nail Salon, which virtually applies nail polish shades and textures on live videos of hands.
With its latest app, the company annotated 10,000 hand images to identify hand motions and positions, said ModiFace CEO and founder Parham Aarabi, who likened the Virtual Nail Salon tool to its prior apps such as ModiFace Virtual Makeover and ModiFace Hair Color. They allow users to try different makeup and hair experiences, respectively, in real time and see realistic changes.
You have read the maximum number of free articles.
Glossy
+

Membership

Subscribe now for access to unlimited Glossy content, premium research reports, exclusive newsletters, invitations to member-only events and more.
This content is available exclusively to Glossy+ members.
Glossy
+

Membership

Subscribe now for access to unlimited Glossy content, premium research reports, exclusive newsletters, invitations to member-only events and more.
"We have been working on this for about two years, and we felt the technology had improved enough and was finally in a place where nail AR could be a reality," said Aarabi.
For the launch, the ModiFace Virtual Nail Salon will not be associated with any beauty brands and is largely being used as a test for the company.
Advertisement
"We want to gain experience, see how people are using it, what features they tend to use more often and then decide what we do going forward," said Aarabi. "It is a learning exercise."
ModiFace offers similar services in the color cosmetics and hair categories. Prior to the company's acquisition by L'Oréal in March, ModiFace's apps had been downloaded a total of 150 million times, according to the company. (ModiFace is not releasing download numbers since the deal.) In August, ModiFace began it first phase of exclusive L'Oréal work, by powering augmented reality experiences on Facebook across makeup brands within its portfolio, starting with NYX Professional Makeup.
Though the nail category is newer for ModiFace, it is not the first to try to play in the space. Augmented reality beauty company Perfect Corp., which works with over 200 brands and boasts over 700 million downloads across its suite of apps, launched YouCam Nail in 2015. That singular app, which features 65 plus colors, 25 patterns, over 50 stickers and five nail shapes, has had about 20 million downloads since it debuted. It allows users to both take photos of their own hands and use stock hand images on the app. It does not yet have any beauty brands affiliated with it, either.
Like ModiFace, the company has been focused on color cosmetics through its YouCam Makeup and Perfect apps. "We have seen massive growth with makeup and cosmetics, specifically, but the nail category has not been forgotten," said Lindsay Colameo, Perfect Corp. senior beauty editor. "We have a lot of room to grow, especially with brands and bringing their colors to life like we did with cosmetics." Still, she said, YouCam Nail is still a "discovery tool" to see how prospective colors and patterns appear on the nail and hand.
Advertisement
Though ModiFace sees its nail app as facilitating discovery, as well, there are large ramifications now that it is owned by L'Oréal. According to market research firm Euromonitor International, L'Oréal is ranked second in nail product market value after Coty in both the U.S. and internationally. Internationally, the nail category is expected to grow by over 7 percent in the next five years to nearly $6.5 billion, but in the U.S, it expected to slow by nearly 12 percent by 2022. Though the U.S. is a top market for Perfect Corp's YouCam Nail, it is equally penetrated in India, China, Brazil and most of Europe, said Colameo.
For, L'Oréal, though many of its beauty brands dabble in nail color, its largest penetration is through nail brand Essie in the U.S. and Gemey/Maybelline globally, while Coty owns OPI and Sally Hansen in the U.S., as well as Risque in Brazil. Aarabi would not project future plans for the Virtual Nail Salon app with L'Oréal-specific brands, but he did say, like makeup, there is a social media component attached, especially through nail art. For instance, on Instagram, #nails has nearly 96 million posts, #manicure has over 18 million and #nailfie has 670, 000. "There are dedicated communities that love and share nail art, but we are not sure yet how customers and users will react to a tool like this," he said. "It is yet to be seen."
Get news and analysis about fashion, beauty and culture delivered to your inbox every morning.