Fit technology is getting a boost from the new iPhone and Savage x Fenty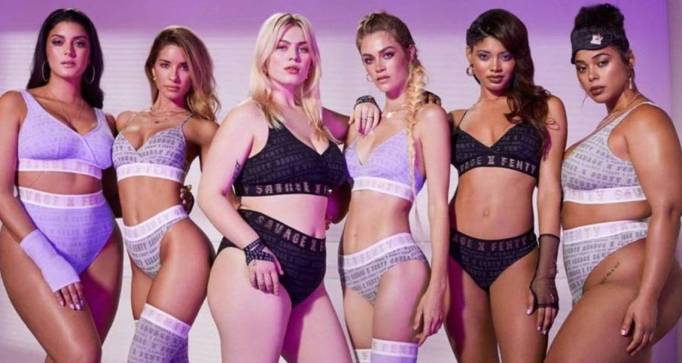 Savage x Fenty, the popular Rihanna-founded underwear brand that focuses on inclusive sizing, is in the middle of rolling out its first five brick-and-mortar stores. The first, in Las Vegas, opened on Monday, and four more will be opening between now and May.
The 4-year-old brand has been successful online, growing its revenue about 150% each year. It's now worth more than $200 million. With its transition to IRL retail, it's adopting a new focus on fit technology. Every Savage x Fenty store will arm its associates with body-scanning technology to aid in finding the best fit for customers. Fitting rooms will also have this technology available, so the scan can be done in private, if so desired. The goal is for this technology to serve as a supplement to the fitting room experience, narrowing product options and helping customers find the right fit.
You have read the maximum number of free articles.
Glossy
+

Membership

Subscribe now for access to unlimited Glossy content, premium research reports, exclusive newsletters, invitations to member-only events and more.
This content is available exclusively to Glossy+ members.
Glossy
+

Membership

Subscribe now for access to unlimited Glossy content, premium research reports, exclusive newsletters, invitations to member-only events and more.
For Savage x Fenty, which raised a $125 million funding round on Wednesday, this was a necessary component of entering physical retail. Christiane Pendarvis, co-president of the brand,  said the goal was to "eliminate the fit question for our Savage x Fenty customers, so they can shop for and wear our product with absolute confidence."
Fit technology has come a long way in the last few years. The introduction of Apple's new LiDAR technology to all of its new iPhones in September of 2021 was a massive leap forward in user-friendly 3D scanning. The lack of an effective, affordable, portable way to perform such scans was a hindrance to in-store fitting technology taking off in the past. But now, every iPhone user has the necessary tech in their pocket. Savage x Fenty is working with a company that makes use of the new LiDAR technology, 4-year-old Fit:Match.
Advertisement
"There are things that exist now that didn't exist even two years ago," said Haniff Brown, founder of Fit:Match. "The LiDAR tool has made our tech very scalable. Consumers love that, and we have high adoption rates when they see how it's done."
The tech is simple: An iPhone's LiDAR scanner scans a customer's dimensions and matches them with the best-fitting product. The entire process can be done in around 15 seconds. 
When asked what consumers have been first to embrace the technology, Brown said he's seen a slight skew toward younger age groups. And categories that are most dependent on fit, like underwear, activewear and denim, consistently show the highest level of engagement with fit tech, he said.
Advertisement
A brand's product assortment also plays a role in making fit tech attractive, according to Pendarvis.
"We offer an extensive product assortment that makes identifying the right size even more important for our customers," she said.
Fabletics, another TechStyle-founded brand, will also be incorporating Fit:Match technology at its more than 50 stores, said Brown.
Increasingly, in-store tech tools are becoming the standard. Amazon opened its first apparel-focused physical store in mid-January. It includes a number of fitting-room tech tools, like a touchscreen for finding and requesting additional sizes. But adoption is still slow. A December report from sizing solution company Presize.ai found that only around 34% of apparel companies had any sort of sizing recommendation tool at the end of 2021. 
Advertisement
But Brown said he thinks LiDAR, along with investment from buzzy companies like Savage x Fenty and Fabletics — Savage made an additional undisclosed investment in Fit:Match beyond what it's paying for the service — will lead to the technology's wider adoption.
"Some large brands are generally interested, but many are still skeptical," he said. "There are a lot of fit technologies out there, but none have really captured the brand imagination in a larger way. So we wanted to show brands that this is a viable, scalable model that consumers will use."
Get news and analysis about fashion, beauty and culture delivered to your inbox every morning.