Models and Joja founders Josephine Skriver and Jasmine Tookes: We learned the business 'from the ground up'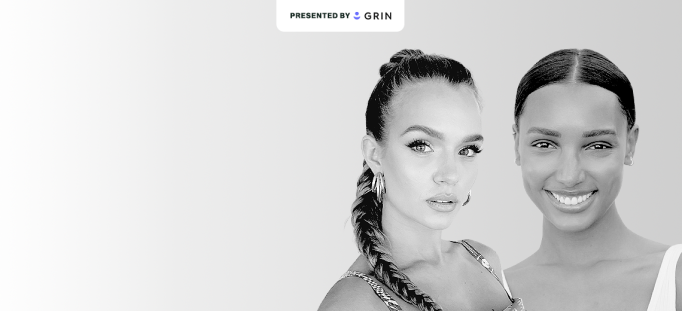 Subscribe: Apple Podcasts | Stitcher | Google Play | Spotify
Both Josephine Skriver and Jasmine Tookes have been modeling for more than a decade for brands from Victoria's Secret to Tom Ford. Now, they're focused on building a brand of their own.
You have read the maximum number of free articles.
Glossy
+

Membership

Subscribe now for access to unlimited Glossy content, premium research reports, exclusive newsletters, invitations to member-only events and more.

SUBSCRIBE

Already a member?

Already a member?

Login

Logout
This content is available exclusively to Glossy+ members.
Glossy
+

Membership

Subscribe now for access to unlimited Glossy content, premium research reports, exclusive newsletters, invitations to member-only events and more.
Named Joja – derived using the first two letters of their first names – Skriver and Tookes's activewear brand launched in February. It bears the same name as the Instagram account the pair launched in 2016, which unexpectedly gained a large following. 
"It really just developed over our passion and love for fitness and staying healthy, and holding each other accountable in the gym," said Tookes. "We started posting our workouts on Instagram, and it was really just for us to share our journey in the gym with each other. And out of nowhere, girls from all over the world started sharing their workouts with each other and holding each other accountable."
Advertisement
Today, the Instagram account has more than 700,000 followers. And that community's demand for Joja "merch" is what drove the launch of the brand – which the founders plan to expand far beyond activewear.
"Hopefully, we can build an entire Joja universe," Tookes said. "We have so many ideas we want to do. Joja is really a fun opportunity for us to build an entire umbrella around health and wellness, whether that includes protein drinks or beauty waters or workout equipment. The opportunities are endless."
Below are additional highlights from the conversation, which have been lightly edited for clarity.
Models-turned-founders
Tookes: "We started Joja in 2016. Two years ago, we decided, 'Let's actually make it into something." Because we kept getting asked, 'When are you guys launching merch?' and 'When are you guys putting out a product?' And we were like, 'Oh, gosh, what do we start with? There are so many different ways that Joja could go, but what is the best entry point for us to get into the fitness world?' And clothing was the thing that stood out to us the most because we do a lot of content. And we were like, 'Why don't we just wear our own clothes while we're doing the content, rather than keep promoting all these other brands?' We worked on it for almost two years. The hardest thing was finding a factory that could do it — because we also are very hands-on in everything we do. We couldn't just choose a factory overseas and be like, 'OK, let's trust you guys to do it.' We wanted to be able to actually go down there, see the factory and make sure everything is being done in an ethical way. Jo and I are almost a little too hands-on — our manufacturer is like, 'You guys are insane.' Because we're like, 'Oh, this little stitch right here needs to go a little bit this way.' But I think it's because we've spent the last 10-11 years of our life in trial-and-error with so many different brands' clothes, and we've kept different pieces of things we like and we don't like, and we've been really invested in the whole design process. So it did take a little bit longer than expected, because of that reason. And again, Joja is not something where Jo and I just slapped our name on it. We really wanted to learn from the ground up: What does it take? How do you build a tech pack? How do you do all these things behind the brand? And so, with that, it took probably an extra year for us to put it out. And also, the supply chain and getting the fabrics — it's not easy."
Advertisement
A community-fueled brand
Skriver: "We actually have a little group on the side of around 400 on the Geneva app. It's almost like a Facebook group. And they were part of picking out the outfits, in a sense. We would do color votes… They definitely helped us pick the colors. And now that we've announced that we're doing activewear, they're going to be a lot more involved in processes [moving forward]. And we actually shot our community for the campaign. We had the girls who were following Joja sign up for the casting, and we shot that — because if there's a reason why we're doing it, it's all for them."
The evolution of modeling
Skriver: "When we started out, it was almost an anonymous job. But then the age of influence, Instagram, Snapchat, Twitter and all these platforms came up, and it gave modeling a voice we hadn't had. Instead of walking around with your [portfolio], you could now show your social media. You were able to show a side of you that nobody had seen before, because [before] there wasn't really a way to be personal or take people behind the scenes. And it really changed how everybody went about their career. You were able to really connect. And now, it makes sense when you're connected with a brand, because we all make sure that it fits our brand: 'This is actually stuff I love and talk about.' It's not just, 'Hey, I'm a face." And I think that's the beauty of it. Nowadays, there is definitely a whole different requirement, because we do need to be able to not just be the face and sell, but also, on a personal level, we need to reach customers.… It's been an extremely fun learning curve, and it's also so satisfying [to know] that there's actually a vessel that you can control a lot more and [ensure] that you're working with brands that are fun and that you stand behind."
Get news and analysis about fashion, beauty and culture delivered to your inbox every morning.