How The New Guards Group is redefining luxury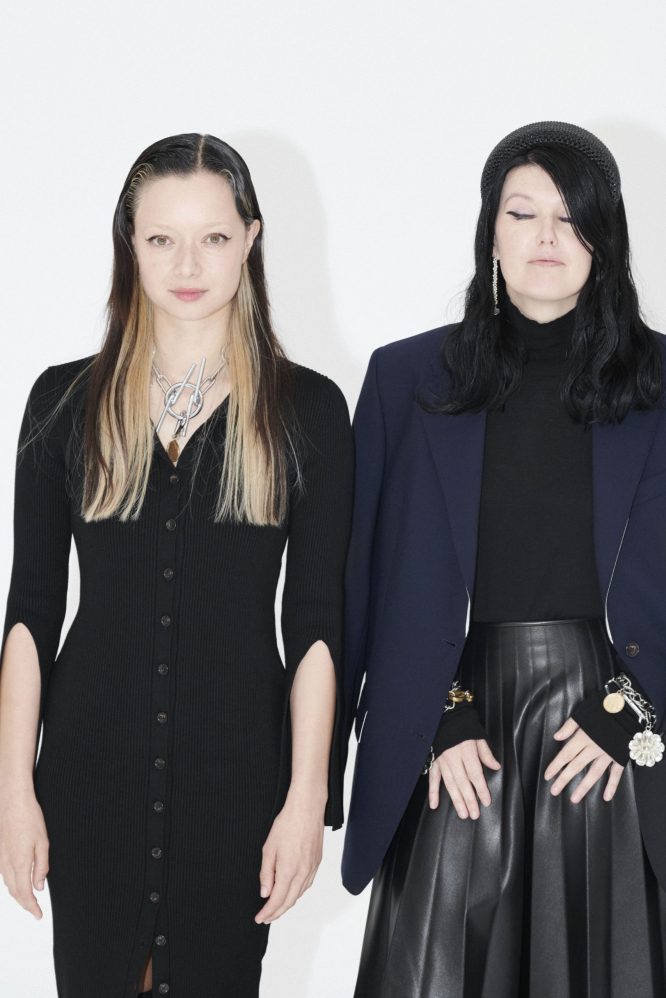 From its latest work partnering with Farfetch on the online fashion company's first brand of closet staples to supplying the market with streetwear brands that work for Gen Z, the New Guards Group is developing a different type of luxury.
Farfetch announced on Wednesday that it is launching its first brand called There Was One, in partnership with New Guards Group that it acquired in August 2019 for $675 million. New Guards Group was established in 2015 by Claudio Antonioli, Davide De Giglio and Marcelo Burlon. was purchased. There Was One is an offering of elevated classics designed by Farfetch, based on user insights from the platform's site.
You have read the maximum number of free articles.
Glossy
+

Membership

Subscribe now for access to unlimited Glossy content, premium research reports, exclusive newsletters, invitations to member-only events and more.

SUBSCRIBE

Already a member?

Already a member?

Login

Logout
This content is available exclusively to Glossy+ members.
Glossy
+

Membership

Subscribe now for access to unlimited Glossy content, premium research reports, exclusive newsletters, invitations to member-only events and more.
The NGG holds many fashion brands under its umbrella, which include the licensing for Off-White, Opening Ceremony, Heron Preston, Kirin Peggy Gou and Ambush. In October, it acquired Ann Demeulemeester. NGG brought on Olivier Germain from Balmain as its chief merchandising officer in April.
In August, LVMH bought a majority stake in Off-White, the biggest of the New Guards Group brands. The brand's creative director and founder, Virgil Albloh, is set to remain in both his role at Louis Vuitton and at the creative helm of Off-White; he will also own a 40% slice of the label he founded. 
Advertisement
When Farfetch had initially acquired NGG, the share price for Farfetch dropped almost 50%, with many investors wondering whether backing such a young group would be beneficial. As Farfetch's debt had been rising — the retail platform is still yet to break even in 2021 — revenue for the company was up 45% year-over-year through the first half of 2021. Still, the investment was believed to be too big for the value it would add. Now, that answer is very different, as NGG's unique Gen-Z marketing strategy, diverse brand directors, and fast and efficient production model are proving to be a win. 
The NGG was one of the first to opt-out of the traditional fashion calendar, even before the pandemic, instead choosing to develop limited-edition drops for its streetwear brands. This strategy has proven to be particularly popular with younger generations who are perceived to be a more volatile market group and not loyal to one brand or designer.
Syama Meagher, CEO and founder of Scaling Retail, said, "I imagine there are going to be far more private label brands that are going to be launching underneath their umbrella, once they get this brand out of the gate."
This is an essential part of the innovation-led strategy. The New Guards Group does not own the brands in its roster. Instead, it takes a majority stake and then signs a license to design, manufacture, produce and distribute products. All of the brands are led by notable fashion personalities that add to the brand's image. Streetwear is a specific focus.
Advertisement
Meagher added, "One of the things that other marketplaces like Amazon have done very successfully is launch their own private label. Amazon has done this through the lens of aggregating lots of data from all of its vendors. The craziest thing about marketplaces is that they own the data of all these other brands that are selling on their platform. When it comes to understanding what is not working, what is the right price point, how to prevent marking things down — this is a fantastic competitive advantage that any sort of marketplace provider has."
Farfetch also notes that it uses insights from what people are searching for on its site, as well as what they are purchasing, for design purposes. That, combined with The New Guards Group's fast production and efficient distribution, is no doubt the envy of competitors and hard to replicate by retrofitting existing production systems.
In a statement, Farfetch said that sustainability was a priority in its brand partnership with the NGG. Day dresses are made of ENZING™ECOVERO™ viscose, made from wood and pulp derived from responsibly managed forests and certified to come from sustainable sources. Its jackets are constructed with certified recycled nylon and treated with a PFC-free water repellent coating. According to Farfetch, "Certified eco-friendly materials are used across the range, and the products are designed with longevity in mind. The brand will minimize production where possible by operating on a drop versus seasonal model, and shipping to customers with minimal packaging, which is compostable or recyclable." 
The Farfetch platform is very focused on its conscious credentials for 2030, which include 100% conscious products and an aim to be climate positive.
Advertisement
Thomas Berry, director of sustainable business at Farfetch, said, "Our first annual Conscious Luxury Trends Report published this year explored how consumers are shopping more consciously — the sales of conscious products grew 3.4x faster than the marketplace average [since] 2020. There Was One has been developed with this in mind. The entire There Was One collection uses independently recognized or certified materials that are better for people, the planet or animals. We will continue to work with the brand's suppliers to ensure materials, processes and operations are low carbon and that they continuously improve environmental and social standards and certifications."
Get news and analysis about fashion, beauty and culture delivered to your inbox every morning.