How Telfar captured luxury customers with a contemporary price point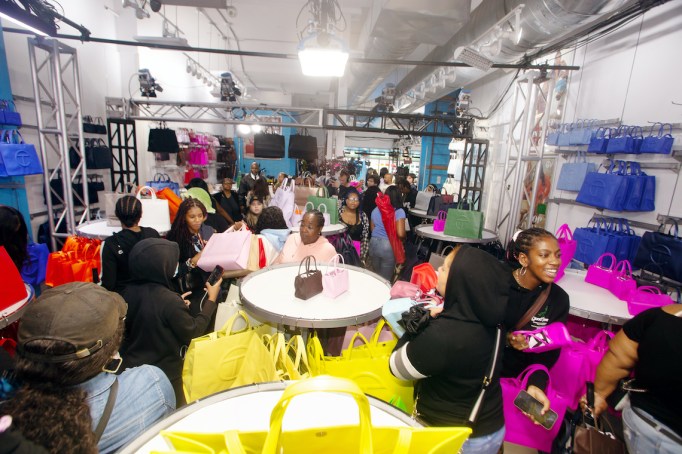 During New York Fashion Week, the coveted direct-to-consumer bag brand Telfar, founded by Liberian-American designer Telfar Clemens, hosted its first pop-up in Brooklyn.
For many DTC brands, a pop-up shop is a good way to test the waters of retail. But for Telfar, the pop-up was already guaranteed to be a blowout. Multiple articles ahead of the opening advised people to arrive early, and when the store finally opened, thousands of people showed up, shutting down traffic for hours in downtown Brooklyn, according to WWD. Demand was so great that the brand brought back the drop on Friday, starting at noon — this time, online only.
You have read the maximum number of free articles.
Glossy
+

Membership

Subscribe now for access to unlimited Glossy content, premium research reports, exclusive newsletters, invitations to member-only events and more.

SUBSCRIBE

Already a member?

Already a member?

Login

Logout
This content is available exclusively to Glossy+ members.
Glossy
+

Membership

Subscribe now for access to unlimited Glossy content, premium research reports, exclusive newsletters, invitations to member-only events and more.
In the 17 years since Telfar launched, it has swiftly become one of the most in-demand handbag brands on the market. According to Fashionphile, an accessory resale platform, Telfar bags have a sell-through rate of 92%. Telfar bags typically retail for $200-$500, far less than other highly-desired handbags by the likes of Chanel, Prada and Hermès. According to Lyst, a company that catalogs search traffic, Telfar bags were the third-most-wanted item in fashion in 2021, behind Birkenstocks and Off-White facemasks.
Price is often a consideration when defining luxury, but Telfar's prestige positioning is due to its exclusivity and quality. While the bags may not be as expensive as others, they're hard to get. They go on sale once or twice a month, dropping in limited quantities of only a few hundred that are hotly anticipated. A separate program, called Bag Security, lets customers order any bag made-to-order, skipping the hassle of the limited drops, though bags ordered this way usually take several months to arrive. As the streetwear and sneaker markets have shown, rarity can be a substitute for expensive, since the shared outcome is that not a lot of people will have what the end purchaser has.
Advertisement
"We knew that this brand was becoming more and more relevant in the sustainable and luxury space, so we kept an eye on it for a bit and watched it grow into a brand that we know resounds with many of our Fashionphile customers," said Lara Osborn, vp of procurement and authentication at Fashionphile. Fashionphile's inventory mostly skews more expensive, with the next most affordable brands like Mansur Gavriel selling for several hundred dollars more than Telfar at retail. "Telfar embraces diversity and strives for accessibility. While they might not have originally sought out ultra-luxury customers, ultimately they have followed the playbook of many beloved designers by offering a recognizable and iconic collection, with constant iterations that bring us back for more, season after season."
A representative from Telfar provided background for this story, but Clemens himself was unavailable for comment.
And the brand only continues to grow. Fashionphile data shows that 52% more Telfar bags sold this past August than in any other month since it started carrying Telfar in 2022. On The RealReal, resale of Telfar bags was up 85% year-over-year, in the same time period. That luxury status also has its pitfalls. Data from StockX's 2022 resale report released in June showed that the Telfar Shopping Bag in black was the No. 1 most counterfeited product that sellers attempted to sell on StockX last year.
Telfar has also benefitted from luxury customers mixing price points in what they buy. Brands like Nike and Adidas, which are also affordably priced, are routinely lumped in with luxury on both department store shelves and in stylists' closets. Brands like Telfar are more affordable and casual than brands with eye-popping price tags like Hermès, but are increasingly seen as just as stylish and acceptable among luxury customers.
Advertisement
"The consumer has become more casual, and the luxury customer is looking for a brand that matches their taste level," Kimberly Carney, CEO of B2B fashion marketplace FashWire, told Glossy in April. "Especially during the pandemic, the consumer adjusted their live-work-play wardrobe."
Osborn corroborated the idea that Fashionphile customers aren't just buying Telfar because it's all they can afford. 
"What we've found through our sales this year is that our Telfar aficionados are everywhere and they love all brands," she said. "Our Telfar customers also purchase Hermès, Van Cleef & Arpels, Gucci, and Chanel luxury items."
Get news and analysis about fashion, beauty and culture delivered to your inbox every morning.