How Balmain will bring its fall fashion show to the metaverse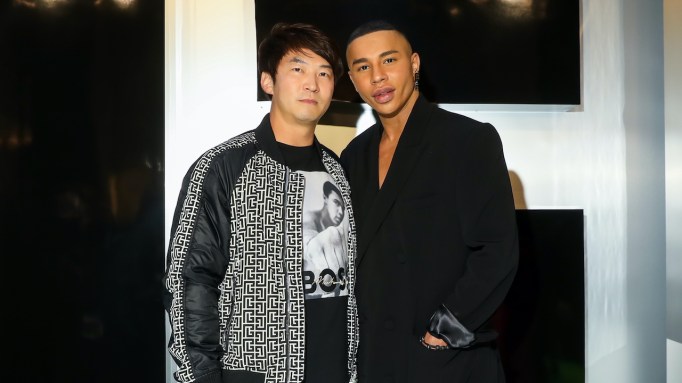 This year, luxury French fashion brand Balmain is focused on bringing experiences to its discerning customers through web3. This will include September's 2022 Balmain Festival, which will be a digital reinvention of its fashion show that will include the fruits of a partnership with premium marketplace and studio MintNFT. It will continue Balmain's journey with the company's Non-Fungible Thread that was announced in May. 
Moving on from a 2021 NFT strategy that was focused on getting customers to try Balmain NFT's, the brand is now focused on the long run, launching a dedicated non-fungible thread that allows customers to be part of the metaverse journey with the brand. The non-fungible thread acts like a point of access to the Balmain metaverse roadmap and tracks customers' Balmain purchases, unlocking experiences and exclusive perks over time. 
You have read the maximum number of free articles.
Glossy
+

Membership

Subscribe now for access to unlimited Glossy content, premium research reports, exclusive newsletters, invitations to member-only events and more.

SUBSCRIBE

Already a member?

Already a member?

Login

Logout
This content is available exclusively to Glossy+ members.
Glossy
+

Membership

Subscribe now for access to unlimited Glossy content, premium research reports, exclusive newsletters, invitations to member-only events and more.
Talking about the Balmain partnership, MintNFT founder and CEO James Sun said that every person's experience with a luxury brand is non-fungible and unique, but described that experience as a hard thing to track in the physical space. 
"If somebody purchases a dress, the Balmain store knows who purchased it. But oftentimes, the [customer] experience is relegated to two points: when the person makes the purchase and when they wear it, and that's pretty much it," he said. "If you could capture every essence of a person's experience with the brand into a non-fungible thread that goes across the customer journey, that would change that experience." 
Advertisement
This weaving of digital and physical experiences will be shown by pairing Balmain's physical product launches with digital twin NFTs that prove ownership and will eventually unlock community perk. Most recently, Balmain released a Unicorn sneaker in partnership with artist Jeff Cole last Friday,
Balmain has been in the metaverse game longer than most — in fact, long before the concept of an NFT went mainstream. "For us, the metaverse is simply the logical evolution of what has been happening in the recent years with the different projects that we've launched," said Txampi Diz, CMO of Balmain.
In 2018, Balmain was the first luxury brand to launch a digital filter in Snapchat, which featured the first digital accessory. The same year it created a concept store VR experience, in collaboration with Oculus. Since then, it has been part of key metaverse launches, like the digital flame dress featured in Vogue Singapore in 2020. "These are activations that nowadays people would consider to be part of a brand's web3 metaverse strategy," said Diz.
Now, Balmain sees the long-term possibilities of the metaverse across its physical and digital experiences, under the lead of creative director Olivier Rousteing. Rousteing has increased the brand's annual revenue seven-fold since starting at the brand in 2011. Up next, the brand will launch a genderless fine jewelry line this summer that may include an NFT component.
Advertisement
"Obviously, with a jewelry line, an NFT launch would definitely be a good opportunity," said Diz. "The key is to find the right opportunity to create the right storytelling around it so it makes the project more appealing."
One of the main ways Balmain has opened up to the public is through its rebranded seasonal fashion show that it now calls the Balmain Festival. It welcomes up to 6,000 in-person guests through ticketed entry and a second entry open to the public. The third edition will be carried out in Paris on September 28. "The festival activations will be a milestone, meaning we will be able to show Balmain's take on web3 and Balmain's direction, in terms of embracing web3 in our strategy," said Diz. "It will be the beginning of the next episode."
With the MintNFT partnership, existing non-fungible thread holders and fans on the brand's socials will be able to receive exclusive access to the event and future Festivals. "The concept behind the Balmain Festival for us is: How can we make a fashion show not a fashion show, and instead make it more relevant, more interactive and more impactful for the big digital audience?" said Diz.  
The brand is currently working with MintNFT to provide access to an event happening during Paris Fashion Week for its physical and digital audiences. It's also looking into AR as a way to immerse its audience into the shows. "In the future, we want to be able to integrate video content in the shows that would be only available for those with our NFT's," said Diz. "For us, it's not about creating a completely separate strategy around the metaverse and web3. The main goal and challenge is how we can integrate web3 within our brand strategy."
Advertisement
Get news and analysis about fashion, beauty and culture delivered to your inbox every morning.