2 flagships in 3 blocks: Inside What Goes Around Comes Around's bold SoHo plan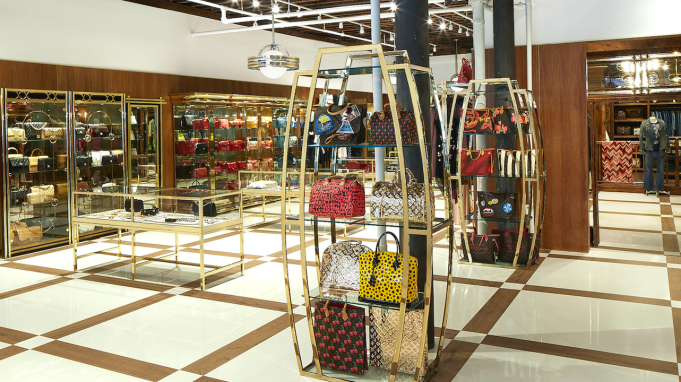 This story was originally published in the Glossy+ Fashion Briefing.
The center of New York's SoHo spotlights the increasing competition among luxury resale companies.
You have read the maximum number of free articles.
Glossy
+

Membership

Subscribe now for access to unlimited Glossy content, premium research reports, exclusive newsletters, invitations to member-only events and more.

SUBSCRIBE

Already a member?

Already a member?

Login

Logout
This content is available exclusively to Glossy+ members.
Glossy
+

Membership

Subscribe now for access to unlimited Glossy content, premium research reports, exclusive newsletters, invitations to member-only events and more.
As of next week, 29-year-old What Goes Around Comes Around will have two flagship stores in a three-block span of the neighborhood. And, depending on the route taken, The RealReal or Rebag will be positioned between them.
With luxury resale growing to a $37 billion market in 2021, according to Bain & Company, investors are flooding the space with funding. At the same time, resale companies are going head-to-head to win over both sellers and end customers. For many, that means expanding their physical footprint through authentication sites, drop-off locations or curated showrooms. Offering consumers more convenience is a factor, but — particularly in pedestrian-heavy SoHo — the marketing and sales a store can provide are also key draws.
Advertisement
On March 21, What Goes Around Comes Around sent out an e-vite to industry insiders for a party celebrating the re-opening of its original flagship store, set for April 7. 
The store, located on West Broadway in SoHo, has been out of operation for nearly a year, following a sprinkler malfunction within its building. Forced to close the store's doors, founders Seth Weisser and Gerard Maione took the opportunity to perfect its design, with a focus on making it cohesive – in 2003, they took over the neighboring store, eliminating wall dividers but never syncing the looks of the spaces. The midcentury modern design of the company's Beverly Hills store, which opened six years ago, provided inspiration.
While renovations were underway, Weisser and Maione opened a pop-up just three blocks away, on Wooster Street between Spring and Prince Streets. Based on the "incredibly good reaction" they've seen, they've since decided to make it the brand's third permanent flagship, said Weisser.  
"There's a different customer on that block," he said, referring to the Wooster store. "It's more in the kill zone, in terms of the foot traffic in the neighborhood."
Advertisement
Comparatively, the original store is "a destination" and also serves as a brand "identity store," he said. 
The stores will be merchandised differently, with the Wooster store serving as a more direct response to the recent resale boom; it will sell pre-owned styles from the last 10-15 years. Meanwhile, the West Broadway store will more closely align with the retailer's reputation as a source for true vintage, specializing in styles from the '80s and '90s. 
Weisser said that buying products from sellers, versus reselling items via a consignment model, is a key differentiator for What Goes Around Comes Around amid the recent crowding in the pre-owned market. He said he's focused on keeping the company's sellers and shoppers, versus losing them to new competitors. And competition is heating up. 
He acknowledged that other resale companies are "highly funded," while What Goes Around Comes Around hasn't taken on outside investment. For its part, Rebag announced a $33 million funding round in December, bringing its total funding to date to $101 million. But taking on funding is now a consideration, as the aim is to continue expanding the business, he said. What Goes Around Comes Around was reportedly projecting $50 million in sales in 2017. 
Advertisement
What Goes Around Comes Around is also unique in that its e-commerce site drives the smallest percentage of its sales. Its stores drive more sales, and its wholesale channel drives even more. It quietly sells vintage styles through 20 retailers, including Kith, Goop, Shopbop and even Dillard's.
"You wouldn't expect luxury to work in Tuscaloosa, Alabama, but the woman shopping at the local Dillard's wants to buy a Louis Vuitton bag just like the woman in SoHo does," Weisser said. 
And that's especially true since the start of the pandemic. More consumers are thinking of luxury fashion pieces as collectible investments – a concept luxury brands have recently been driving home by drastically raising prices. 
"Secondary market prices reflect price increases [in the primary market]," Weisser said. "In the last 2-3 years, everything in the Chanel vintage catalog has about doubled in price. We were charging $7,000 for a Chanel jumbo classic [handbag], and we're now charging $9,000-$10,000." 
Advertisement
And at the same time, luxury shoppers have increasingly turned to resale. As Weisser noted, "In the last two years, they couldn't get to a Chanel store or a Gucci store as much as they used to."
Get news and analysis about fashion, beauty and culture delivered to your inbox every morning.