Olive and June wants to democratize nail care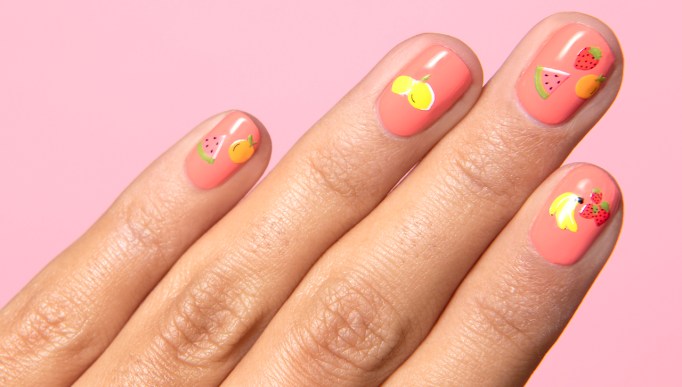 Nail brand Olive & June, which is best known for its three California salons in Beverly Hills, Santa Monica and Pasadena, continues its expansion into the at-home market.
After launching a direct-to-consumer-only polish collection on OliveJune.com in March, the brand debuted its first Target collaboration — a line of nail stickers with nail polish mainstay Essie – in 1,800 stores this week. Additionally, Olive & June will begin its first series of ticketed masterclasses in June to teach women how to paint their nails at home, in partnership with real estate company Caruso, owner of retail centers The Grove and Palisades Village.
You have read the maximum number of free articles.
Glossy
+

Membership

Subscribe now for access to unlimited Glossy content, premium research reports, exclusive newsletters, invitations to member-only events and more.
This content is available exclusively to Glossy+ members.
Glossy
+

Membership

Subscribe now for access to unlimited Glossy content, premium research reports, exclusive newsletters, invitations to member-only events and more.
"When we thought about partnering with retailers, we wanted to do it in a special way. We weren't just interested in going into stores for the sake of it and sitting on shelves," said Sarah Gibson Tuttle, Olive & June founder and CEO. "We see retail partnerships as marketing and not as a straight sales opportunity."
Olive & June started carried Essie in its salons since 2013, and the two companies have previously partnered on six awards-season events in the past. Owned by L'Oréal Groupe, Essie, which is the second largest nail brand in the U.S., drives its parent company's No. 2 ranking in the nail category both globally and in the states, according to market research firm Euromonitor International. Greg Hui, vice president of marketing for Essie, said the collaboration was centered on highlighting seasonal trends for a limited-time (three months in this case), like "creating summer nail art."
Advertisement
Though the global nail market is experiencing increases globally — it is expected to grow by over 7% in the next five years, to nearly $6.5 billion – the U.S. market is slowing by about 12%. By 2022, it is expected to be valued at just over $1 billion.
Retailers are responding: Target, for its part, has been rejiggering its nail-care assortment. Non-toxic nail brand Tenoverten launched 24 polish shades and five nail-care products in 800 Target doors in February. In regard to nail art, prior to Olive & June, Target had only carried Kiss, a brand with a limited assortment of nail stickers, but is better known for press-on nails, and Melissa & Doug, which is a line for children. According to Gibson Tuttle, nail stickers were the No. 2 most-searched beauty term on Target.com, thus the rationale, for launching stickers versus introducing its own non-toxic polishes in stores. Target's interest in nail art corresponds to the fervor that nails have on social, too: The hashtag #nails has 108 million posts on Instagram, #manicure has nearly 22 million and #nailfie has over 957,000.
In stores, Olive & June and Essie's partnerships will be displayed in oversized end-caps featuring 36 polishes and 6 sticker set packs. According to Gibson Tuttle, 85% of Olive & June's product orders from OliveJune.com are outside of New York and California, so entering Target allows it to reach more women who are interested in at-home nail care. While she did not detail 2018 sales, Gibson Tuttle said she expects overall sales to grow by 15 times in 2019, thanks to the partnerships with Essie and Target. Product sales will account for 50% of revenue in 2019, whereas it was nearly driven by salon services in past years. For now, Olive & June's nail polishes will remain DTC-only.
To further satisfy that appetite for the at-home market, Olive & June will also debut six masterclasses with Caruso at The Grove, Palisades Village and The Americana in California. Three of these will be VIP classes, which will be offered for $85 to up to 20 attendees. (Participants will get access to the class and take home Olive & June's Everything Box, which retails for $80, and a sticker set.) The other three will be $50 general-admission classes for up to 100 attendees. (In addition to the class, guests will receive the brand's Studio Box that is $50.) This mirrors what Athleta recently launched with Well+Good to rethink both the retail and event experiences.
Advertisement
The smaller events will be held in private rooms at Caruso's properties — at restaurant Ladurée, for example — while the larger events will be tented on the respective lawns of the retailer centers. The hope is that Olive & June will be able to take this masterclass series around the country later this year and into 2020.
"Caruso had approached us many times over in the last six years, and we thought about how we were going to grow. It wasn't through the salon service model, but the education aspect," said Gibson Tuttle. "Most women across the country can't afford to get their nails done at a salon and should not be handcuffed to a the salon experience to get a manicure. That's where we see our opportunity."
Get news and analysis about fashion, beauty and culture delivered to your inbox every morning.