Inside the reopenings of Atlanta beauty salons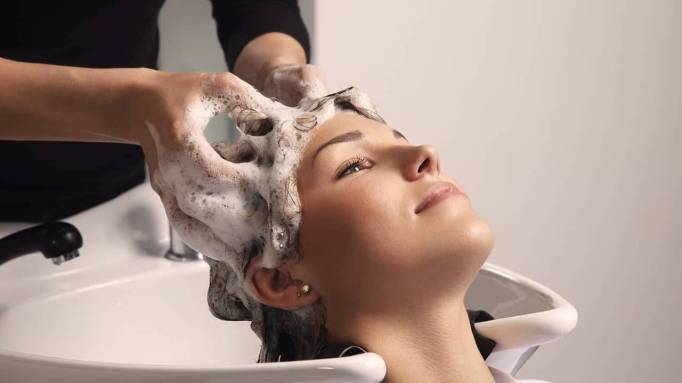 The reopenings of beauty salons in Atlanta on April 24 has prompted mixed reactions by business owners.
Georgia Governor Brian Kemp allowed nonessential businesses such as hair salons and gyms to reopen on April 24. There have been at least 28,345 cases of coronavirus in Georgia, as of Tuesday morning, according to The New York Times; at least 1,228 locals have died.
You have read the maximum number of free articles.
Glossy
+

Membership

Subscribe now for access to unlimited Glossy content, premium research reports, exclusive newsletters, invitations to member-only events and more.

SUBSCRIBE

Already a member?

Already a member?

Login

Logout
This content is available exclusively to Glossy+ members.
Glossy
+

Membership

Subscribe now for access to unlimited Glossy content, premium research reports, exclusive newsletters, invitations to member-only events and more.
"I feel I have to come into work because, otherwise, my clients will find someone else," said Heidi Oley, owner of Chroma Station Salon. "Do I feel it's worth it? No, because I'm only going to be making [less than] half of what I am used to. I can't have my full staff here at once."
Oley said she is following Georgia's guidelines and is only allowing one client and one stylist in her four-chair salon at a time, to accommodate social distancing requirements. Oley texted clients during the temporary closure to ask if they wanted to pre-pay for services and reschedule their March and April appointments. Her appointments are filled through June.
Advertisement
Oley said that, based on demand, if the salon were operating at full capacity, the stream of customers would be comparable to pre-coronavirus. Some clients that initially booked for May have since rebooked for June. When the salon reopened on April 24, people could resume booking online. The site's booking section states the salon's sanitary guideline and requirements.
The salon is only offering haircuts and color services at this time and is not blowdrying customers' hair, to reduce contact time with each customer, said Oley. This is not a requirement in Georgia, although New Hampshire has made it a state requirement. After each customer leaves the salon, the stylist spends 30 minutes sanitizing his or her station. They're also being advised to take a 10-minute break, so that they can take off their uncomfortable masks, and safely, Oley said.
Chroma Station Salon has increased the price of every service by $5– for example, women's hair cuts went from $55 to $60 — to account for additional salon expenditures like personal protective equipment. Oley said one of the hardest aspects of returning to the salon has been not being able to provide a traditional salon experience. She is not offering clients drinks or magazines, and every customer has to sit in their car until their stylist texts them to come inside. Once a customer comes inside, they are required to wear a non-surgical face mask and go to the bathroom to wash their hands. Not being able to see her clients' smiles has been the saddest part, she said.
"There's this wave of emotions because you have someone sitting in your chair and you're trying to talk to them, but you don't want to talk too much. You're happy to see your clients, but you cannot give them a hug or shake their hand," she said.
Advertisement
"We have a spa-like setting, [and social distancing] takes away the enjoyment and puts people into a state of arrest," said. Sonia Barber, owner of Covered Nail Bar. Out of safety concerns, she has decided not to reopen her salon until June 1, assuming a second wave of infection does not occur. "I don't see how it could be therapeutic or comfortable for myself or the client. When clients come in, theygrab a mimosa and we talk. The service [they receive] makes them have a good day and breaks up the monotony of the workweek."
Georgia reported over 1,000 new confirmed cases of coronavirus on May 1, the same day additional shelter-in-place orders were lifted. Barber said she will stagger appointments when she reopens, which last 90 minutes for a manicure and pedicure, and will likely reduce her personal client flow from between seven and 10 people per day to half of that. Despite these atmospheric changes, she has booked clients out at far as the end of July.
But Raymond Griffin, co-owner of a six-chair salon called Emphasis Hair Design, was eager to open on April 24. Currently, only one stylist and client are allowed inside at the business at a time, and only two out of four stylists are currently working. Stylists wear protective face masks and gloves. Clients, too, are asked to wear a face mask. Griffin said, thus far, this has not been an issue for customers.
"It has been fairly OK [with new safety protocols]," said Griffin. "We're happy to be open, because we can pay bills now. Our decision [to reopen] was based on client need, and also the need for us to get back to an ordinary life."
Advertisement
Get news and analysis about fashion, beauty and culture delivered to your inbox every morning.