How hair-care brand Dae achieved a 45% repeat customer rate for its latest launch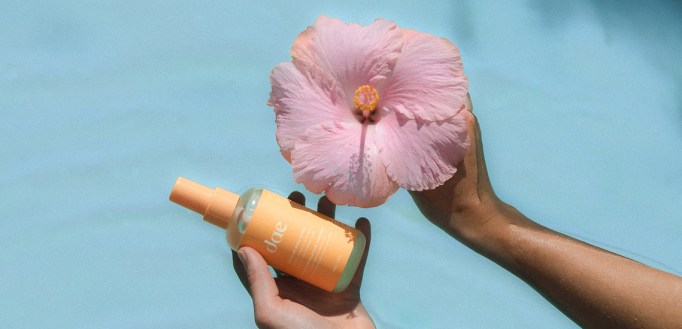 As a 2-year-old indie hair-care brand, Dae is taking a slow-and-steady approach to sales and customer growth, as opposed to growing by any means necessary.
The brand, founded by influencer Amber Fillerup Clark (@AmberFillerup, 1. 3 million Instagram followers), is inspired by desert-native botanicals. Most recently, it launched a Hibiscus Wave Spray on June 17 which was an opportunity to both refine its product launch strategy and demonstrate its solid sales growth and customer retention. Dae is sold through its DTC e-commerce site and has a retail-exclusive partnership with Sephora. Its core products retail for $10-$46. Dae is expected to double its revenue year-over-year in 2022, but representatives declined to provide annual revenue figures.
You have read the maximum number of free articles.
Glossy
+

Membership

Subscribe now for access to unlimited Glossy content, premium research reports, exclusive newsletters, invitations to member-only events and more.

SUBSCRIBE

Already a member?

Already a member?

Login

Logout
This content is available exclusively to Glossy+ members.
Glossy
+

Membership

Subscribe now for access to unlimited Glossy content, premium research reports, exclusive newsletters, invitations to member-only events and more.
The approach Dae took to launching its wave spray followed what the team learned from its 3-in-1 styling cream launch in March, said Alyssa Kobel, Dae's vp of brand marketing and partnerships. The multi-prong strategy consisted of leading with influencers, taking part in like-minded brand collaborations, hosting an in-person influencer meetup with Fillerup Clark, investing in traditional digital media and driving SMS sign-ups through website pop-ups offering a discount.
"[Both launches] were comprehensive, in terms of trying to touch and enter the styling category in a way that was visually arresting and compelling, which you can't quite do with a shampoo and conditioner," she said. "We applied many of the same tactics [used in our previous launch] for the Hibiscus Wave Spray."
Advertisement
Kobel said more than 50% of the launch budget went toward influencer and digital media marketing, although the brand relies more heavily on unpaid micro- and macro-influencers. Dae sent product launch-focused influencer mailers and reposted the user-generated content from those influencers. If an influencer happened to "hit the nail on the head," in terms of the unpaid content they produced, then the Dae team reached out to ask about paid partnership opportunities, said Kobel. The brand led an influencer beach day in Orange County, Calif. on June 17, which also served as a UGC generating opportunity. It invited local micro and macro-influencers who have been loyal to the brand.
In addition to good old-fashioned influencer marketing, Dae has also made brand collaboration a core part of its branding and awareness strategies. Its DTC website currently features collabs with hair towel brand Aquis, home fragrance brand Pura and Ele Swims, the latter in the form of a swimsuit. For the wave spray, Dae partnered with beauty brand Saie to sample travel-size sprays with any Saie online purchase through June. In turn, Dae will sample a mini Saie mascara on its e-commerce.
Kobel said that the wave spray surpassed the 3-in-1 styling cream, in terms of first-week sales, and even sold out at Sephora. Though it was intended as a "smaller revenue driver," its sales have been double expectations, she said. Jenny Son, president of Dae, said the budget for wave spray was 37% less than that for the 3-in-1, but the return on ad spend was 300%.
"Not only are we growing our [customer] base, but we're looking at our overall cohort analysis from when the brand first started in March 2020 and we have been able to reactivate 62% of churned customers," said Son. "As we activate on the marketing side, we look at how to retain [influencers] and customers, and that's where have moments like the beach meetup that help build our community."
Advertisement
In the case of the wave spray, 45% of sales were from repeat customers during the week of launch. Dae's core consumer is female, 25- to 34-years-old and based in coastal cities. Recently, Dae has seen a growing customer demo of 18- to 24-year-olds and people over age 35. Its top markets include California, New York, Texas and Arizona.
"The time for you to grow a brand's core base is when it's younger, by being disciplined that each product has a purpose and that you're providing support [for the product] from not only monetary support but also retailer support," said Son. "For younger brands, it's so easy to chase revenue for the sake of revenue."
Get news and analysis about fashion, beauty and culture delivered to your inbox every morning.