Glow Recipe brings back Watermelon Glow Dew Drops with new TikTok campaign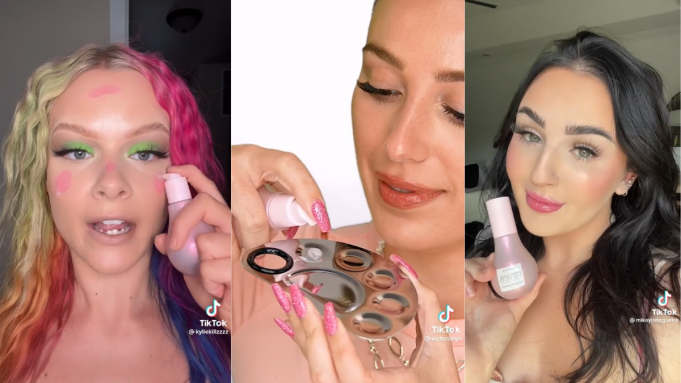 All products featured on Glossy Pop are independently selected by our editorial team. However, when you buy something through our retail links, we may earn an affiliate commission.
On Thursday, Glow Recipe introduced a TikTok campaign focused on its bestselling product, Watermelon Glow Niacinamide Dew Drops ($34), a serum-primer hybrid that first launched in 2020.
You have read the maximum number of free articles.
Glossy
+

Membership

Subscribe now for access to unlimited Glossy content, premium research reports, exclusive newsletters, invitations to member-only events and more.

SUBSCRIBE

Already a member?

Already a member?

Login

Logout
This content is available exclusively to Glossy+ members.
Glossy
+

Membership

Subscribe now for access to unlimited Glossy content, premium research reports, exclusive newsletters, invitations to member-only events and more.
For the campaign, the brand tapped longtime partner Mikayla Nogueira (13 million followers), as well as Victoria Lyn (5.2 million followers) and Kylie Larsen (@kyliekillzzzz, 2 million followers), to share makeup hacks on TikTok using the Dew Drops as a mixing medium. It also tapped 14 smaller influencers to use the sounds created by Nogueira, Lyn and Larsen to create a flood of Dew Drops content on TikTok, with the expectation that other creators would organically join in. Mailers sent out to influencers included a mixing palette, on which one could blend the Dew Drops with a favorite foundation, blush or bronzer.
Within 24 hours, the hashtag for the campaign, #GlowRecipeDewHacks, had over a million views, according to the brand. At this story's press time, that number had reached 2.3 million.
Advertisement
"When you launch a product, you always have so much you want to say about how great the product is," said Sarah Lee, co-founder of Glow Recipe. "Sometimes it's just too many messages at launch, [and] they could actually get lost, versus sticking with very simple, sharp, concise messaging."
When Dew Drops first launched, Glow Recipe positioned it as a serum-primer hybrid product. It also told the story that it has strong, tested skin-care ingredients — niacinamide and antioxidants — that could help improve hyperpigmentation. It worked with Sephora to place the product under search results for both its "serum" category and its "primer" category. Doing so paid off; the product is among the top-five listings when you look both at bestselling serums and bestselling primers on Sephora.com.
Still, when it first launched, Lee said, "We didn't get to talk about everything that it was able to do. Over time, it organically happened that people were obsessed with it as a makeup, glow-giving tool. We wanted to respond in a way that was even more official from the brand saying, 'Actually, we did intend to have this benefit for you,'" she said.
Advertisement
The new campaign, which further positions Dew Drops as a makeup must-have, was in part inspired by the UGC that the brand has seen proliferate. "It's a very cyclical approach, where we were seeing people share [how they were] using their draggy matte foundations that have been rolling around in their drawers. Then suddenly, this turns it into this most beautiful sheer look; we took it a step further from there," Christine Chang, co-founder said.
While the brand is now designed around fruits including avocado, plum and guava, watermelon came first with the launch of the brand's famous Watermelon Glow Sleeping Mask. Glow Recipe plans to continue to invest in the success and growth of watermelon products, which many shoppers identify with the brand.
Currently, the brand has one other hybrid product, its $22 Glow Lip Pop Lip Balm, which comes in a blueberry flavor and a watermelon flavor. "Makeup users today know the importance of starting with a healthy canvas, which begins with a great skin-care routine. In 2023, we're excited to launch new innovation that will continue to blur the categories between skin treatments and makeup-enhancing products," said Chang. She added, "It's a definite possibility that we'll launch a product that leans heavier in the makeup category yet still embodies the Glow Recipe DNA."
In its first few days, the TikTok campaign has seen impressive earned media value, with a total value of $352,000, 11 million impressions and a reach of 22 million, according to the brand. Nogueira drove $130,000 EMV, while Lyn drove $71,000 and Larsen drove $72,000. Also since the launch of the campaign, Glow Recipe has seen a 500% growth in its TikTok follower count, now at 262,000. More importantly, however, it saw a 40% increase in daily e-commerce sales of the Dew Drops in just one day.
Advertisement
Get news and analysis about fashion, beauty and culture delivered to your inbox every morning.