Glossy Pop Newsletter: Maggie Sellers is demystifying VC on TikTok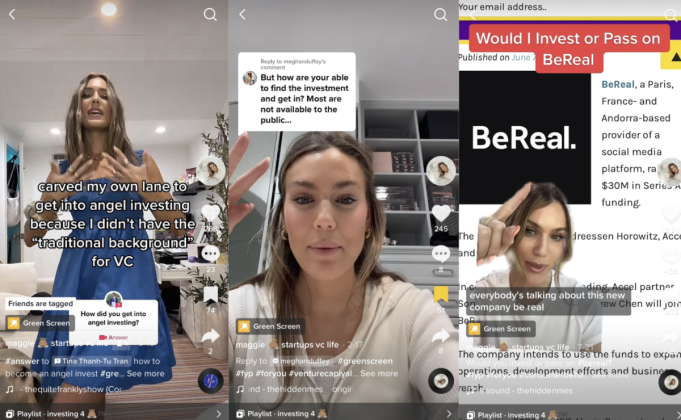 To receive the Glossy Pop newsletter in your inbox every Friday, click here.
All products featured on Glossy Pop are independently selected by our editorial team. However, when you buy something through our retail links, we may earn an affiliate commission.
You have read the maximum number of free articles.
Glossy
+

Membership

Subscribe now for access to unlimited Glossy content, premium research reports, exclusive newsletters, invitations to member-only events and more.

SUBSCRIBE

Already a member?

Already a member?

Login

Logout
This content is available exclusively to Glossy+ members.
Glossy
+

Membership

Subscribe now for access to unlimited Glossy content, premium research reports, exclusive newsletters, invitations to member-only events and more.
Since February, Maggie Sellers has been educating her 31,000 TikTok followers on the confusing world of venture capital, often a boys club.
"I wish I'd had somebody like me [when I was younger] to share knowledge, experience and build a community, [about how] I could get involved in this aspect of business," Sellers said of the VC space.
Advertisement
Sellers has an interesting background. She started in special projects and marketing analytics at Canadian salad chain Freshii. From there, she became the head of artist development and brand strategy at Electric Feel, which managed musicians like Post Malone, the Black Eyed Peas, 24kGoldn and Iann Dior. There, she provided companies "access to celebrities, in exchange for a piece of equity of [a] company." Today, she both invests in and serves as an adviser to a number of companies, including Nudestix, where she played a part in architecting the "CSOP" deal. She also advises glassed brand Futuremood, healthy cookie-dough company Deux and nail polish brand Faculty, among others.
Sellers previously had been casually posting lifestyle content to TikTok — she'd made videos demonstrating the food she ate in a day and her process of making a vision board. She pivoted to talking about her career in VC at the beginning of 2022, when a friend suggested she put her professional expertise to further use.
It is, by now, well-established that TikTok is no longer an app for teenagers dancing in their bedrooms. Erika Kullberg, aka "money lawyer Erika," has a whopping 9 million followers and is known for explaining "fine print" to her followers. "She's a laywer and reads the fine print, so I don't have to," Kullberg says enthusiastically, speaking in the third-person about herself, in video and after video. Dulma Altan talks about business strategy, focusing on consumer brands. Like Altan, Sellers also talks about celebrity brands. For example, she's made videos about why she thinks Hailey Bieber's Rhode will be successful; she attributes this to Bieber having built "easter egg credibility" by having talked about beauty organically before launching her own brand.
As TikTok has become Gen Z's search engine of choice, it has also become a tool for education, and one that allows access to gate-kept industries and information.
Advertisement
In Seller's first successful video, which got 100,000 views, she broke down "what it means to invest in startups, why we do it and when you're actually going to make any money," she said. The video elicited a number of questions: "How did you get into this? I'm really interested," one commenter asked. "But how are you able to find the investment and get in? Most [opportunities] are not available to the public," said another. From there, Sellers was off to the races.
To start investing, herself, Sellers said she prioritized spending money on shares of companies rather than material goods. "Obviously, I didn't have a $50,000 check to put into every single company. But I knew the power of equity. So instead of buying new handbags, or buying new this or new that, I always saved money to actually put into companies, whether it was $2,500, to start, or $5,000," Sellers said. She often invests small amounts of money independently and also serves as an adviser to the companies she works with.
Through the likes she saw on TikTok, Sellers said she realized there was an interest in the content she was creating. "When my account started growing [is when I] actually focused on [illuminating this] traditionally opaque, elitist, misunderstood industry," she said. "It's like, if you're in venture capital, you're a bro. [The vibe] is, 'If you know, you know.'" She wants her content to help change that. "I never saw a playbook for what I'm doing; I never thought this is what I would be doing," she said. "But I'm so passionate just about [helping] more women [understand] the power of adding value on a cap table."
Launch Radar: Fall Makeup Edition
Advertisement
Westman Atelier Vital Skincare Complexion Drops
Westman Atelier is expensive — but the brand never misses. There's a reason it's a perennial favorite among beauty editors. Its latest launch adds to its complexion collection, previously comprised of a stick foundation. Its new launch is a skin tint that gives a medium wash of color and has nourishing ingredients like tsubaki oil.
Ilia Liquid Powder Eye Shadow Tint
Advertisement
Ilia's new liquid-to-powder shadows come in the kind of shades reminiscent of vintage clothes, including warm terracotta and moss green. Aster, a washed-out lavender, is currently sold out on the brand's site and has been a hit on TikTok. Hot tip: At press time, Sephora had Aster available.
Merit Bronze Balm Sheer Sculpting Bronzer
True to Merit's minimalist aesthetic, this bronzer is perfect for those who want to look more sunkissed than contoured.
Benefit Gimme Brow+ Volumizing Eyebrow Pencil
Advertisement
Oftentimes, brow pencils can feel overly waxy, and they rarely provide the desired amount of pigment. Not this one. It blends fibers and powder to fill in brows, leaving them looking full and voluminous. Compliments are nearly guaranteed.
Patrick Ta Major Skin Creme Foundation and Finishing Powder Duo
Patrick Ta's first foundation, like many of his other products, offers users a 2-in-1. There's a cream foundation and a setting powder that blurs pores, all packaged in an easy-to-use compact.
Kulfi Main Match Hydrating Concealer
Kulfi launched in 2021 with a collection of kajal eyeliners in a variety of colors that quickly became beauty industry favorites. Now, the brand — which is the first South Asian-owned makeup brand carried by Sephora — has just debuted its second-ever product. The crease-proof concealer uses South Asian ingredients like antioxidant-rich amla fruit extract.
Saie Lip Blur Hydrating Lipstick
Saie's new lipstick comes in six shades, each named for a style of art. They include Dada, Modern and Nouveau. The matte formula looks polished and keeps lips hydrated, thanks to hyaluronic acid.
Live Tinted Huebeam Blushing Bronzer
The latest launch from Deepica Mutyala's collection is a 2-in-1 blush and bronzer, which was carefully created to somehow flatter all skin tones. Early reviews say it succeeds.
Visit the Pop Shop to browse all products featured in Glossy Pop.
Inside our coverage
With Fempower Beauty, influencer Blair Imani proves beauty and activism can go hand-in-hand
Noisemakers, skinfluencers and derms: How Byoma leveraged TikTok influencers to launch
#PerfumeTok favorite Commodity re-enters Sephora
Reading List
Carpenter denim is 2022's anti-skinny jeans trend
Kate Moss's guide to restorative wellness and cool-girl beauty
Get news and analysis about fashion, beauty and culture delivered to your inbox every morning.