Can the beauty landscape stand another celebrity project?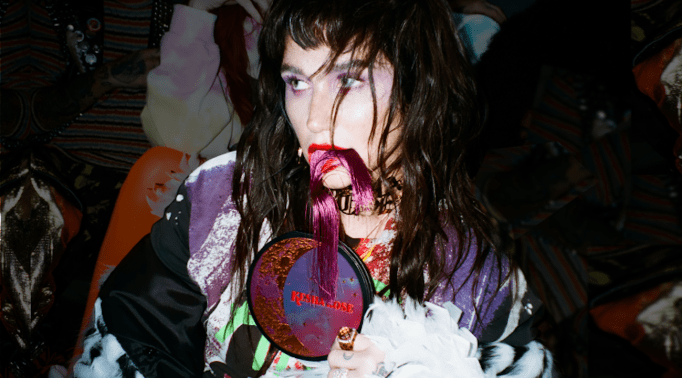 The rise of the celebrity-led beauty brand won't let up.
Last week, pop singer Kesha announced her foray into the space with her line Kesha Rose Beauty. Made in collaboration with brand incubator HipDot, the three-piece collection of an eyeshadow, an eyeliner and a lip product will launch on HipDot.com in December. WWD estimated that Kesha Rose Beauty would bring in $5 million in sales in its first year.
You have read the maximum number of free articles.
Glossy
+

Membership

Subscribe now for access to unlimited Glossy content, premium research reports, exclusive newsletters, invitations to member-only events and more.
This content is available exclusively to Glossy+ members.
Glossy
+

Membership

Subscribe now for access to unlimited Glossy content, premium research reports, exclusive newsletters, invitations to member-only events and more.
Kesha's line comes at a time when celebrity brands are rampant in beauty. The goal: to translate fans into customers. Michelle Pfeiffer brought her DTC-first clean fragrance line, Henry Rose, to market in April. Lady Gaga debuted Haus Laboratories in July exclusively with Amazon. And Beach House Group brought four celeb attached brands to life in the last year: Shay Mitchell's Béis, Millie Bobby Brown's Florence By Mills and Tracee Ellis Ross's Pattern Beauty.
As celebrities and influencers aim to maximize their business opportunities, a beauty partnership may seem obvious. But rather than succumbing to a fragrance licensing deal — a concept that pioneered by Elizabeth Taylor with White Diamonds in 1991 and had a popular resurgence in the early 2000s — brand incubators are finding a white space in the market and then filling it with talent.
Advertisement
Investments in these brand builders are also at an all-time high. Bain Capital acquired a majority stake in Maesa, the partner behind Drew Barrymore's Flower Beauty and Kristin Ess hair care, and HipDot received $2.5 million in seed funding from Foundation Capital, Founders Fund and Ludlow Capital. HipDot previously created beauty collections around Spongebob and queer illustrator and designer Hey Rooney. And more of these incubator-style companies are popping up in order to service celebrity brands: iLabs, spearheaded by entrepreneur David Chung, is slated to launch in January 2020.
"When people go into an industry, it starts with the role models they see in that industry. People have seen how well Kylie [Jenner] has done or Rihanna with Fenty Beauty; they read the stories and hear about the hundreds of millions of revenue in their first years," said Nicole Quinn, Lightspeed Ventures partner, who led the investment in Haus Laboratories.
Beach House Group, for one, seems to have bet on its celebrity model. The future and focus of the company is no longer on its previous brands like Marlowe, a men's line, and children's clothing brand Antsy Pants. Still, founder Shaun Neff believes that only 20 to 30 celebrities have the prowess to build a longterm brand.
"You want someone who is going to work, who will be your partner," said Neff. "A follower count is no indicator of if someone is going to have a successful business."
Advertisement
In the past 12 months, Beach House Group was approached by approximately 100 celebrities and influencers for a deal, but only inked four, said Neff. Interestingly, none solely of the companies sit in the makeup category. For example, Florence by Mills has some color cosmetics products, but the assortment is filled to the brim with skin-care items. This was forward thinking, especially because of the makeup category's recent woes.
Moreover, brands like Moon oral care, which sells tooth paste and whitening pens with Kendall Jenner as its face, and Ross's Pattern Beauty that centers on curly and textured hair did not have to take shelf space away from incumbent brands and make up for those sales. Rather, they are seen as category builders for new segments in retailers; all of Beach House's new brands first launched with Ulta Beauty, known as the purveyor of color.
Celebrity brands have a big advantage over competitors in that they have organic reach. Thanks to the rising cost of customer acquisition, brands with organic reach — including media brands and influencer brands — are seeing a resurgence. Matt Scanlan, founder of Naadam and newly named CEO of fashion brands Something Navy by influencer Arielle Charnas and Thakoon by designer Thakoon Panichgul, said the emerging brands he wants to lead are those with built-in audiences.
But a partnership model with celebrities can be a tricky one, as talent could be hot today and gone tomorrow. Jessica Alba's Honest Beauty has had its share of troubles, and after having 83 products in its assortment, relaunched in 2018 with about half of the items. The reaction was meant with little social fanfare. Eva Mendes' makeup line, Circa, which was created by Maesa and launched in 2016, was gone by 2018. This proves that a name, in itself, is not enough.
Advertisement
Most recently, Maesa chose to work with salon owner Sam Brocato on plant-based hair-care line called Together Beauty for a launch in Sephora and developed Believe Beauty (sans a connected name), Dollar General's beauty experiment. Its storied successes have been with Barrymore's Flower Beauty and Kristin Ess.
"We aren't beholden to a name," said Scott Oshry, Maesa chief marketing officer. "Rule No. 1 is asking, 'Is there a white space for another new brand, especially with what else is out there?'"
Maesa, which hit $280 million in annual sales in 2018, has six beauty brands debuting in 2020. Oshry would not state how many were attached to celebrities or influencers.
Still, some celebrities are able to withstand the ebbs and flows of cultural relevance like Jennifer Lopez who debuted her 25th fragrance, Promise, in September. Her fragrance franchise with Designer Parfums is estimated to have done more than $2 billion in retail sales since 2002.
Advertisement
But Lopez's deal, despite her ongoing popularity, follows an older franchise model. Additionally, the way she is talked about in terms of brand awareness versus Rihanna and Fenty Beauty is starkly different.
"A great example of a 'Hollywood celebrity' is Jennifer Lopez.  If we think how she was leveraged at Milan Fashion week with Versace, she drove an accumulated media impact value [MIV] of $31.8 million. But when we think about who was talking about her — and it was really about her — 68% was driven by the media, and only 11% came from influencers, " said Alison Bringé Launchmetrics chief marketing officer.
Around the same time, Rihanna saw $53.6 million in MIV and nearly 56% of buzz generated was via five influencers, like Jeffree Starr, and their love of Fenty Beauty.
"This goes to show the power of celeb-influencers today and what they need to do in order to achieve awareness. Community is key," said Bringé.
Advertisement
Rihanna's success with Fenty Beauty also stemmed from a problem to solve — a lack of foundation for all women — which lent her an air of authenticity among not just fans, but a community of beauty enthusiasts that had been left behind by an industry. Kesha Rose Beauty is one of many other color brands, and for now, her positioning is less clear.
From a brand and incubator investing point of view, this could matter.
"It's our job to think about: A, is this a celebrity that's going to stand the test of time? B, does this space stand the test of time? And C, whether the two together would work and be more powerful. You are looking for one-plus-one-equals-three," said Quinn. "It has to be a celebrity and a space that no one else can touch; that's where the magic happens. Because, as investors, we're not looking to create a business that has 90% market share. It's more about taking market share away from the old guard, and that's the way to have a valuable business now."
Get news and analysis about fashion, beauty and culture delivered to your inbox every morning.