Animal Crossing and arm hair: Gillette's Venus adapts to a new era of digital feminism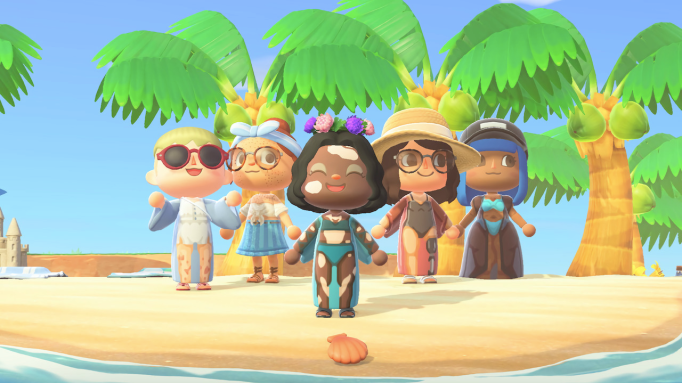 A razor has one job: to remove body hair. For Procter & Gamble-owned Gillette, it took nearly two decades to portray its Venus products doing this.
This is just one of the mini-revolutions that Venus has undergone in recent years as it refreshes its image in a market awash with DTC disruptors like Billie, Athena Club and Flamingo. Describing itself as the largest female hair removal brand in the U.S. and the world, Venus underwent a 2018 branding transformation with its inclusive "My Skin, My Way" campaign. It has since been taking that message to millennial and Gen Z-friendly online platforms, including hit Nintendo Switch game Animal Crossing to portray more realistic skin images. For its "Skinclusive" Animal Crossing campaign launched on August 4, Venus created avatars highlighting the skin realities that it has been newly willing to feature over the past two years. These include freckles, acne, cellulite, scars, stretch marks and — of course — body hair. 
Procter & Gamble reported in its 2019 annual report that it holds 60% of the global razor market, down from 65% in 2018. In addition to tackling the Gillette Venus revamp, the company launched Joy last year and acquired Billie in January 2020.
"We didn't look like a brand that was truly representing all women and being truly inclusive and diverse," said Anthony van Dijk, senior brand director for Venus. "When we changed everything in 2018, ensuring that we are a brand that represents and also appeals to all women was critically important — not only through diversity and inclusion, but also in trying to make a difference and being much more purposeful with what the brand is standing for."
Advertisement
"It's hard to find a consumer brand now that isn't trying to message body positivity," said Sophie Russell, a media planner at marketing agency Brave. "Dove was a real disruptor back in 2004 with its campaign for real beauty, and they really owned that space for a while. Then, we had a decade or so when challenger brands were adopting this approach in order to steal share away from some of the more traditional big brands and create a genuine connection with consumers that the big brands lacked."
For the Venus Animal Crossing campaign, Venus teamed up with digital designer Nicole Cuddihy to create 19 skin types across the game's eight skin tones. In addition to common skin conditions, avatars can be chosen with vitiligo, tattoos, psoriasis and differently abled bodies. 
As beauty brands increase their ties with gaming, many fashion and fashion brands have increasingly turned to Animal Crossing for marketing, with Glossier, Glow Recipe, Parfums Givenchy, Tatcha, Valentino, Marc Jacobs, Net-a-Porter and Coach among those that have created looks for the game.
While body positivity has become mainstream in advertising, the gaming industry has seen calls for less degrading portrayals of female characters, with games including Grand Theft Auto receiving criticism.
Advertisement
"As we dug deeper, we realized that how women have been represented in gaming has been something that was quite appalling in the past," said van Dijk. 
You have read the maximum number of free articles.
Glossy
+

Membership

Subscribe now for access to unlimited Glossy content, premium research reports, exclusive newsletters, invitations to member-only events and more.

SUBSCRIBE

Already a member?

Already a member?

Login

Logout
This content is available exclusively to Glossy+ members.
Glossy
+

Membership

Subscribe now for access to unlimited Glossy content, premium research reports, exclusive newsletters, invitations to member-only events and more.
The Animal Crossing partnership was conceived during the pandemic, when Venus began to shift away from the beach vacation settings it typically features in ads. 
"Showing a lot of outdoor imagery would just be insensitive," said van Dijk. "We realized that a lot of people are spending most of the time at home, and they're playing a lot of games."
Located on virtual beaches, the Animal Crossing characters now show more diversity in skin types than the brand's human models featured in its ads from when it was founded in 2001, up until the 2018 change. These ads often portrayed a group of equally thin bikini-clad models bobbing their smooth legs in unison to the song lyrics "I'm your Venus," which, for the brand revamp, received a more individualist update to "I'm a Venus." In the ads of an earlier era, the razors were only shown in action when they weren't needed — on smooth, already shaven skin. This marks a contrast to the brand's post-2018 TV ads, which portray actual armpit stubble, along with realities like C-section scars and stretch marks. The brand gets even more daring on its Instagram account with bikini line stubble.
Advertisement
"At the end of the day, we are a shaving brand, and to shave already shaved skin was misleading and inauthentic," said van Dijk.
The 2018 rebranding campaign was launched after DTC razor startup Billie created the the "Project Body Hair" campaign the same year. The campaign was the pioneer in portraying women's body hair as a commentary on earlier ads, and has since been followed by similar themes such as the brand's campaign that women participate in "Movember" by not removing upper-lip hair.
Venus "realized it needed to do this, after Billie caused such a stir and got millions of organic views on their launch advertising by showing real body hair being shaved," said Russell. "Gillette was simply the first to be able to put a lot of TV spend behind it."
Advertisement
Billie is currently advertising heavily on YouTube with a video depicting Gen-Z and millennial models shaving off thicker amounts of body hair than are shown by Venus. 
Shifting to digital channels has also been important for reaching a younger generation, said van Dijk. "This is a brand that started off in 2001 with a very heavy TV and print presence," he said. "The media landscape has changed immensely since then, and our consumer is obviously now on social and gaming, and does a lot of shopping online. That's also where we have shifted our investments."
"Targeting is really important with this sort of message, to ensure you hit younger audiences and don't end up alienating older existing customers," said Russell. "Digital helps with this, as you can be hyper-targeted and it skews younger anyway. However, you can still be savvy with TV, ensuring the ads are shown on open and honest programs targeting younger viewers."
Get news and analysis about fashion, beauty and culture delivered to your inbox every morning.